T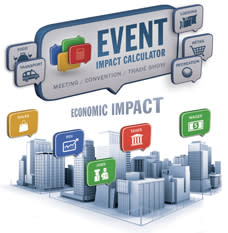 UCSON, Ariz. (April 13, 2012) -Simpleview, a leader in the tourism industry that provides interactive marketing tools and services to destination marketing organizations, has successfully integrated Destination Marketing Association International's (DMAI) Event Impact Calculator into their destination management system -Simpleview CRM.
With the industry association's new tool, users can now accurately calculate the economic value of a particular event and report its return on investment for the destination. Combined with Simpleview's array of integrated products for forecasting and reporting marketing efforts, destination marketing organizations (DMOs) will have access to a dynamic and credible industry standard to quantify the impact in terms of direct expenditures, taxes, employment and wages.
Ryan George, chief executive officer of Simpleview, said the collaboration with DMAI will be useful for DMO staff members to prove the worth of the overall meetings and convention business.
"From recent conversations I have had with destination marketers throughout the country, this new tool from DMAI will help add credibility for the entire industry," he said.  "I am proud that we were part of a initiative that will better prepare tourism professionals when advocating for the ongoing development and growth of the meetings sector," he said.
DMAI's calculator is updated annually through several sources, including survey data supplied by Tourism Economics, which is an Oxford Economics company, and city-specific data from the U.S. Bureau of Labor Statistics. It is the association's goal to develop an industry-wide standard for determining the direct and indirect impacts of a meeting to a region.
"Our clients make up more than 200 domestic and international DMOs that have been adding data about their destination's events into the Simpleview CRM system for years," said George. "By adding the Event Impact Calculator to the mix of data sources, this integration can only strengthen the organizations' ability to demonstrate the real value of face-to-face meetings at the local and national levels."
For more information about DMAI's Event Impact Calculator, visit http://destinationmarketing.org/page.asp?pid=417.
About Simpleview
Simpleview helps destination marketing organizations (DMOs) succeed on every front, from convention sales to tourism marketing and day-to-day operations. The company offers integrated products and services, including the industry's most advanced customer relationship management (CRM) and content management system (CMS) platforms, powerful forecasting and reporting tools, dynamic websites, sites for mobile web, search engine optimization and interactive marketing. Founded in 1991, Simpleview employs more than 100 people with offices in Arizona, Texas, Minnesota and California who serve more than 200 domestic and international DMOs. For more information, visit www.simpleviewinc.com.