FOR IMMEDIATE RELEASE 
TUCSON, Ariz. (November 12, 2016) Simpleview and OnceThere today announced a joint venture that enables destination marketing organizations (DMOs) including convention and visitors bureaus to leverage their position as an integral connection point between local activity providers and visitors. The partnership aggregates all bookable activities within a community and distributes them through DMO websites, visitors centers, mobile apps, and kiosks.

"What makes the OnceThere and Simpleview partnership unique is that together we empower DMOs and their partners to get their part of the sharing economy," said Ryan George, CEO of Simpleview. "With OnceThere's technology, a supplier no longer is required to switch reservation management platforms to gain exposure to our DMOs' customers. They simply connect their existing provider to these distribution channels, and if they don't already have a system in place, OnceThere's technology can provide inventory and pricing to the DMOs."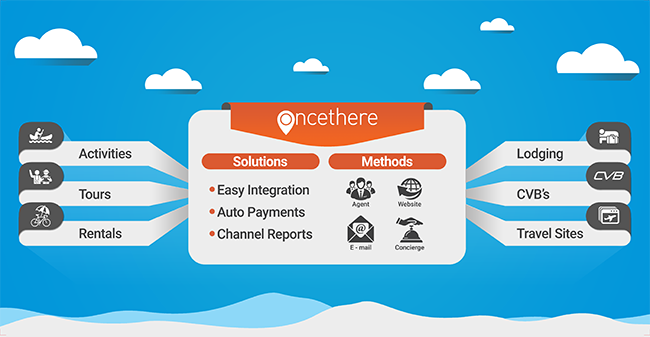 "Partnering with Simpleview is powerful on many levels," said John Weimer, OnceThere's CEO and co-founder, and former Vice President of Corporate Development at HomeAway. "Pairing OnceThere's distribution technology with Simpleview's customers enables travelers to find the most complete source for planning and booking local experiences in a destination or region through CVBs."

One of the first destinations to integrate its Simpleview website and visitors center with OnceThere was the Austin Convention and Visitors Bureau. Early indications are that the CVB is selling more tours and now reconciles electronic payments and bookings with suppliers much more efficiently.
###
About Simpleview
Simpleview is the travel and tourism industry's leading provider of CRM, CMS, website design, search marketing, revenue generation, and mobile technologies for destination marketing organizations (DMOs). The company employs 190+ staff and works with 425 customers in North America and around the world, including destinations like Paducah, KY (population 25,018), the country of Norway and 80% of the top U.S. convention cities.
About OnceThere Inc.
OnceThere plugs tour, activity and other experience offerings into a wide network of tourism agencies, lodging providers, and online marketplaces through a single connection. OnceThere's platform makes all types of activity offerings bookable using any connected device and across all distribution channels.

Contact
Cara Frank, VP of Marketing at Simpleview
cfrank@simpleviewinc.com
520.575.1151