On Thursday, November 13th, Simpleview CEO Ryan George was awarded a Celebrating Innovation in the Workplace Award in the Leadership category. The awards presented by the Society for Human Resource Management (SHRM) of Greater Tucson honor the innovative achievements of teams, organizations and individuals in Southern Arizona.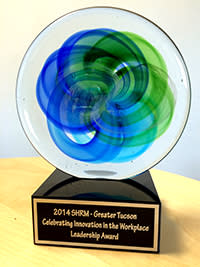 For the Leadership category, George was acknowledged by the SHRM of Greater Tucson for adapting the organization to changing business and customer demands in destination marketing, inspiring a culture of ownership and accountability that encourages engagement through the SimpleSTAR and Personal Education Development programs, and demonstrating courageous leadership to tackle individual and organizational goals in a challenging environment.
This is George's first time receiving the award.