Washington State offers affordable family vacations, beautiful waterfront properties and fun-filled weekend getaways. To market the best of the Northwest, Waterfront Choices collaborated with Simpleview on their latest site - WashingtonWaterfronts.com. The site features a clean look from our creative department and now has a new customer relationship management (CRM) system and content management system (CMS).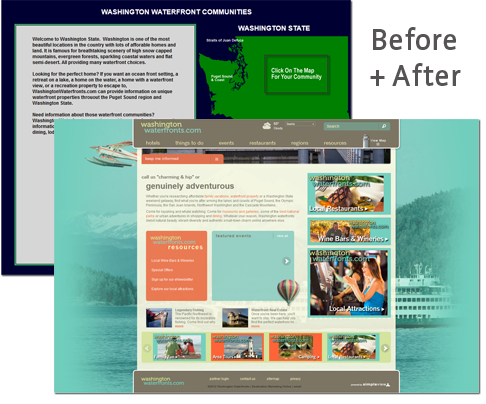 Using the Destination Travel Network, a division of simpleview that manages online advertising for DMOs, Waterfront Choices is placing advertising from travel and tourism-focused businesses from around the state. Hotels, restaurants and event planners are able to acquire space to display their latest and greatest offerings to visitors and those looking to relocate to Washington. The advertising placements help generate income for Waterfront Choices, but also provide a one-stop resource for all statewide waterfront destinations.
Some of the interactive features we built for the site include:
Interactive Map - To give visitors a better understanding of Washington's extensive waterfront destinations, we developed an interactive map to visualize all the exciting places they can see. By clicking on a specific part of the module, one can see pictures and read up on the San Juan Islands, Puget Sound, Olympic Peninsula and more.

Floating Description Header - While we have developed several sites that have animated headers that showcase various images of events and attractions, Washington Waterfronts also has a floating description header for each image. One simply can click on it to learn more about the picture, which can easily be updated through the new CMS we developed for the client.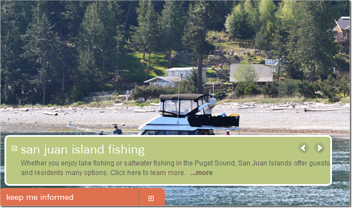 Social Bar - To keep their social media presence clearly available for visitors to find, we developed a "social bar" that always stays on the page. Whether you are scrolling around the site or reading a specific section, links to their Facebook, Twitter and other channels can always be found on the left-hand side of the page.
The lakes and coasts of Washington State offer loads of fun times, ranging from kayaking trips to whale watching excursions. Thanks to Washington Waterfronts, visitors can find all the information they need without doing much hunting. So, check out the new site and learn more about Washington's natural beauty and vibrant diversity.