As a destination marketer, the last few weeks have likely been tumultuous and unpredictable. You may have had to overhaul your entire social media content calendar, or work quickly to build and publish new landing pages for your website. Perhaps you've even launched a new campaign (one that you never imagined you would) asking visitors to stay home and visit later. 
One day, hopefully sooner rather than later, people will be more excited to return to travel than ever. But that begs the questions: how should you be interacting with them in the meantime? 
Right now, your audience is much more attentive and receptive to online messaging than they have been in the past. Your future visitors are at home, seeking out information online. This is a prime opportunity to start building - or further build - their trust in your brand. 
Your content, no matter the medium, should be inspirational, educational and relevant. Make sure that you're serving your audience with content that is relatable and applicable to their current situation. In doing so, you can establish your organization as a consistent and reliable source of information, and your visitors will keep coming back to you when this is all over.
Below are a few great examples of how destinations are using various mediums to connect with and serve their communities: 
Landing Pages | Watch our webinar on building a custom landing page in the CMS. 
Visit Houston has published a COVID-19 landing page called Missing Hou that encourages visitors to experience Houston at home. Website visitors can find directories for local restaurants, links to virtual experiences, and resources to give back to the community. 
Visit Omaha is embracing virtual interactions with their Virtual Visitors page, which directs visitors to a plethora of digital experiences available within their destination, including virtual museum tours, a live-stream of the local zoo and more. 
Social Media
Visit San Diego took to Instagram to promote a livestream of the animals at the San Diego Zoo, a great activity for those sheltering in place. 
Visit Lauderdale recently posted a link to a list of films and TV shows that are set in Fort Lauderdale, inviting visitors to experience their destination via Netflix offerings. 
Visit Omaha is leading users to their virtual visitor center, encouraging them to start planning future trips to the destination. 
Email Marketing
Greater Palm Springs recently launched their email campaign, "Pause now, play later." Like so many others, the DMO is asking visitors to stay home for the time being, and to keep them in mind for the future.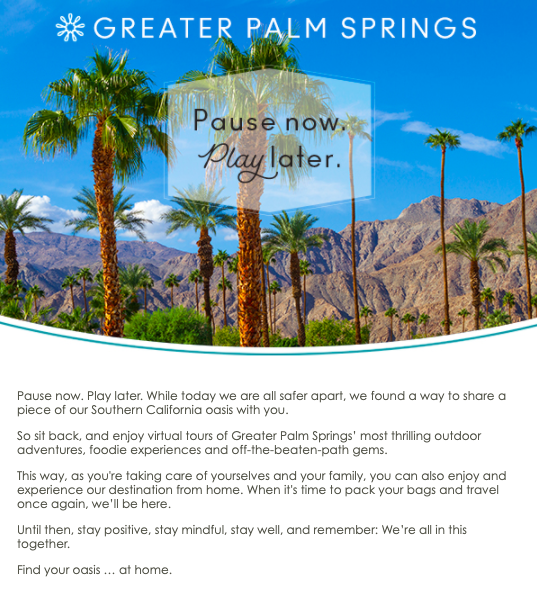 To learn more about how your organization can navigate its marketing efforts during these uncertain times, check out our recent webinar on digital marketing continuity and visit our COVID-19 Industry Resources page.