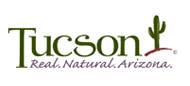 The Metropolitan Tucson Convention and Visitors Bureau (MTCVB) has played an integral role in Simpleview's development. They were one of our first clients, they're our hometown CVB and they've been a great partner over the years. That's why we're proud to debut the latest version of their website - VisitTucson.org.
With the latest version of VisitTucson.org, the MTCVB wanted to incorporate more video throughout the website and emphasize their extensive image library. Our creative department took this goal and ran with it, finding ways to bring large photos of Southern Arizona's events and attractions into several areas of the site. This includes a scrollable slideshow header on the homepage, which allows each picture to have an accompanying video.
Additionally, the MTCVB is the one of the first Simpleview clients to only use imagery in their drop-down navigation. Rather than simply listing the page names or giving a detailed text description, the bureau uses a photo that best depicts the page's content as the traffic driver.
The bureau also wanted to help visitors easily see the latest content on VisitTucson.org. We built a section on the top of every page that has a camera icon. Clicking on it will give you a series of menus to see the freshest photos, videos and articles in a centralized spot.
While the MTCVB wanted people to see the best of Tucson through the website, they also found new ways to help people plan their trip. On the right side of every page is a "My Trip Planner" tab, giving visitors to quickly grab information about attractions, hotels and restaurants, and then bring them into their itinerary. It's also simple to saved, edit or share those travel plans at any time.
Using our destination management system - Simpleview CRM - we helped the CVB develop a series of micro-listings. This can help with the trip planning aspect, as some events are so large that they have multiple smaller events inside of it. For example, the Tucson Gem, Mineral and Fossil Showcase is a massive event with more than 40 sites around the city over a two-week period. This micro-listings feature allows visitors to drill down and find which one of those smaller events they want to check out.
This is just a sampling of what's new and exciting on VisitTucson.org, but definitely check out the site for yourself to see the full feature set. And with Tucson having more than 350 days of sunshine and world-class accommodations, it's a great destination to throw on your "must-see" list.