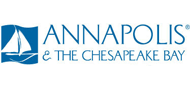 Known as America's Sailing Capital, Annapolis and the Chesapeake Bay area provides plenty of fun activities and attractions for visitors. The destination offers miles of shoreline and maritime villages to explore. Moreover, the area restaurants offer some of the tastiest seafood available in Maryland, regardless if the diner is a "roll-up-your-sleeves" person or someone who prefers an elegant indoor setting with a window's view to the serene waterways.
To capture the essence of this region, the Annapolis and Anne Arundel County Conference and Visitors Bureau reached out to us to freshen up their web presence. This included integrating all of their internal data into a centralized system - Simpleview CRM - and allows their staff to easily update the site content with our content management system. In addition, we worked in collaboration with the bureau's creative agency to implement a new look across VisitAnnapolis.org and their mobile site, m.VisitAnnapolis.org.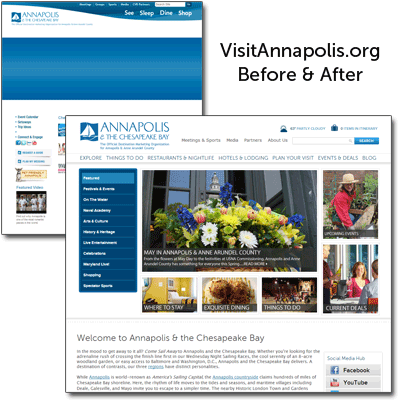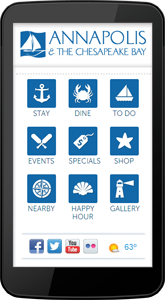 However, one of the more inventive features of this site deals with their integration with our revenue generation department - the Destination Travel Network. To help provide exposure to local partners and bring in additional money for marketing efforts, the bureau has incorporated online advertising space in a bold and unique way. This includes offering their entire header module as ad space, having the ability for our DTN Account Executives to sell each block to Annapolis area businesses.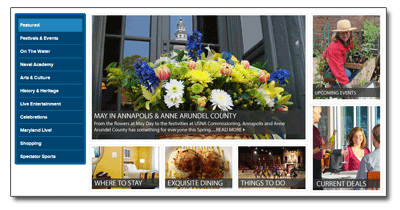 The advertising opportunities don't stop with the header module, as the bureau has additional widgets that can serve targeted placements. This includes a region map that provides suggestions on what to do in metropolitan Baltimore, Annapolis and the surrounding countryside toward Washington D.C. As visitors click on each part of the map, a new set of geo-centric ads will appear for area restaurants, hotels and events.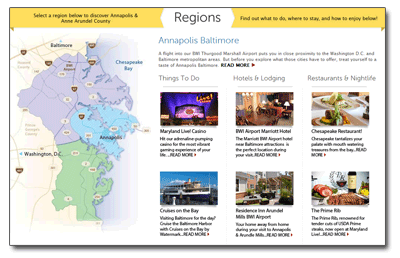 On top of this major feature, the site has several other functions worth checking out:
Visual Navigation - Annapolis and Anne Arundel County had a large photo library to draw upon, allowing us to build a picture-focused navigation on interior pages. This was done to show people some of the sights and scenes they can experience when they visit.
Filter Listings by Search - Not only can you filter lodging choices by type and location, you can do a true keyword search to find the exact information you want. This is a great tool for finding a specific brand property, such as Marriott hotels in the region or waterfront lodging.

Tablet-compliant - Our development team made sure all features would work on a tablet device, such as an iPad. This meant keeping drop-down menus off the site and keeping the design friendly towards touch-based actions like swiping and pinching.
Whether you are looking for culture or cuisine, nightlife or Navy, art or architecture, spas or sports, you're sure to find great things to do in Annapolis and the Chesapeake Bay by using the new VisitAnnapolis.org. So, pop on over to plan your next trip and enjoy the fresh site features!