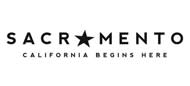 The Sacramento Convention and Visitors Bureau launched their new website to let travelers know what to expect when visiting the capital of California, from amazing food to a destination filled with culture.
The first thing you may notice is the parallax design of the home page. It gives visitors a sense of depth while scrolling through the page, plus it looks cool! The Sacramento Convention and Visitors Bureau also partnered with Artsopolis Network to provide a passive feed of upcoming events to highlight attractions, festivals, award galas, and more.
Other additions to the new site include easy to download photo galleries, 'Share This item' at the top of each page to allow visitors to easily share content while also keeping track of sharing analytics, and a dynamic social media and blog feed to keep fresh content updated on their site.
And last but not least, a new mobile site to match the design and functionality of their new site.
Sacramento is a bustling city with events, restaurants, and activities to delight everyone. Get inspired and check out their new site!