Taken directly from The Roanoke Times online, Roanoke.com: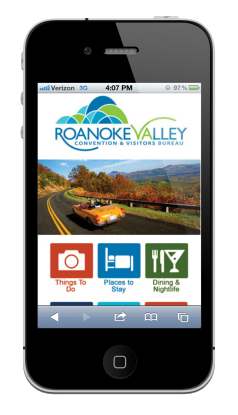 Residents and visitors in the Roanoke Valley can now find restaurants and lodging, search events and outdoor activities, and get directions using a website designed specifically for smartphones.
The Roanoke Valley Convention and Visitors Bureau unveiled VisitRoanokeVA.mobi at a news conference Thursday.
The site uses geo-tracking on smartphones to search for nearby restaurants, events, retail offerings, museums and lodging, and then gives directions. It also highlights discounts and specials at restaurants and hotels and offers weather, photos and a history of the valley.
Part of a $50,000 grant from the Virginia Tourism Corp. paid for the website, said Landon Howard, executive director of the bureau.
"Any business can add its information to the site's database for free", Howard said. Businesses are responsible for updating their own information."