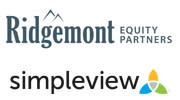 Charlotte, NC (April 9, 2013) -Ridgemont Equity Partners, a middle market buyout and growth equity investor, today announced the closing of an equity investment in Simpleview, Inc., the leading provider of software and digital marketing services to Destination Marketing Organizations ("DMOs").
The existing management team, led by CEO Ryan George and President Rich Reasons, will continue to run the business and has invested alongside Ridgemont in the transaction. The financial terms of the transaction were not disclosed.
Headquartered in Tucson, Arizona, Simpleview provides a cloud-based comprehensive technology platform which connects DMOs around the world to travelers, meeting planners, and local businesses. The company's services include Customer Relationship Management software, Content Management Systems, interactive marketing servicesa vertical ad network. DMOs implement Simpleview's products to attract travelers to their area and drive economic impact through a streamlined sales and marketing process.
"Simpleview is the clear leader in software and services for the DMO market," said Kurt Leedy, a Vice President at Ridgemont. "Our team has been highly impressed with the platform Simpleview has created and we share the Company's vision for its next stage of growth. We look forward to working with the Simpleview management team and its talented group of innovators."
"Our partnership with Ridgemont enables Simpleview to grow by scaling our already robust service offering and expanding our customer reach, both nationally and globally," said Ryan George, CEO of Simpleview. "We are very excited to join forces with this experienced investment team and anticipate an even brighter future for our company, the destinations that we serve, and the tourism industry overall."
"Ridgemont's investment in Simpleview is a natural addition to our fund," said George Morgan, a Partner at Ridgemont. "Our team has been actively seeking opportunities to invest in vertically-focused software-as-a-service businesses, and the reputation that Simpleview has built as a forward-thinking market leader, coupled with our financial and operational discipline, will be essential elements in the execution of the company's promising growth plans."
ArchPoint Partners served as exclusive financial advisor to Simpleview and Silicon Valley Bank provided financing for the transaction.
About Simpleview
Simpleview offers integrated products and services for destination marketing organizations (DMOs), including the industry's most advanced customer relationship management (CRM) platform and content management system (CMS), forecasting and reporting tools, websites, mobile sites, search engine optimization and interactive marketing services. Simpleview works with more than 200 U.S. and international DMOs. Learn more at www.simpleviewinc.com.
About Ridgemont Equity Partners
Ridgemont Equity Partners is a Charlotte-based private equity firm that specializes in middle market buyout and growth equity investments. Since 1993, the principals of Ridgemont have invested over $3 billion in more than 110 companies. The firm focuses on investments of $25 million to $75 million in industries in which it has deep expertise, including basic industries and services, energy, healthcare, and telecommunications/media/technology. www.ridgemontep.com.
Media Contact:
Bill Haynes
BackBay Communications
617-372-4314
bill.haynes@backbaycommunications.com