One of the many benefits for working at Simpleview is the Personal Education Development (PED) program. The program provides $2,500 annually to each employee, which enables them to take a class, attend a conference or develop a new skill.
Recently I used a PED day to attend "Integrated Marketing @ H.J. Heinz Company," an event presented by Association of National Advertisers (ANA). It was a great experience and a great excuse to visit Heinz Field! One of the most interesting presentations was by H.J. Heinz Company's Joe Giallanella (Brand Manager) and Jessica Ryan (Associate Director).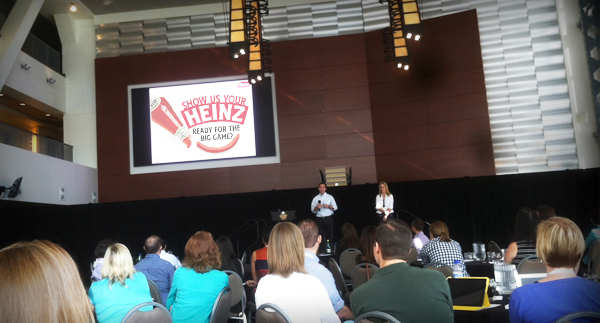 The presentation was about Heinz Ketchup's 30-second spot entitled "Hum," which debuted during the 2014 Super Bowl. The spot was part of a larger "Show Us Your Heinz" campaign that encouraged Heinz-lovers to send in photos of them with Heinz products for a chance to win more than $400,000 in prizes prior to the Super Bowl.
The ad was coupled with a, "360-degree activation program complete with a national sweepstakes, limited edition ketchup bottles, in-store and in-restaurant activation, digital advertising, and real-time marketing via social media during the Big Game, (Association of National Advertisers, 2014)."You can check out the full commercial here: 
http://youtu.be/AbSxofjPVCg
One thing that impressed me about the Heinz presentation was their use of social media to engage in Real Time Marketing (RTM). The presentation talked about how the majority of RTM is not done is real time, rather "the magic is in the planning."
The presentation went on to list 3 types of RTM content.
Planned: The moments you know are going to happen
Anticipated: The moments that you expect MAY happen
Reactive: Putting the processes in place to make real time marketing magic happen
The tagline for the campaign was, "Where there's happy, it has to be Heinz," which, translated into social media language, gives you the hashtag #ifyourehappy. And what really impressed me were the pre-planned social media responses using the hashtag.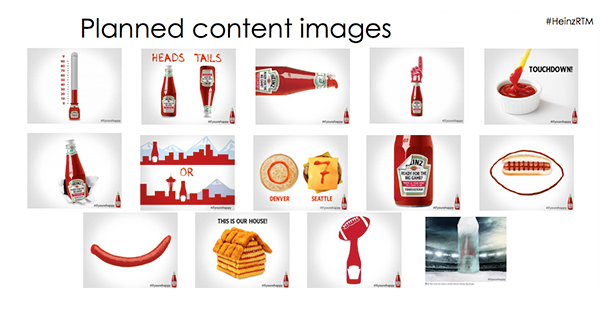 Figure 1.
Heinz also created anticipated posts, which included predicted outcomes to the game that could be launched at a moments notice. According to Josie Cellone, digital brand manager at Heinz, "We had a full stable of content we could use to react to in-game moments knowing that we would leave a majority of them on the cutting room floor, (Lindeman , 2014)."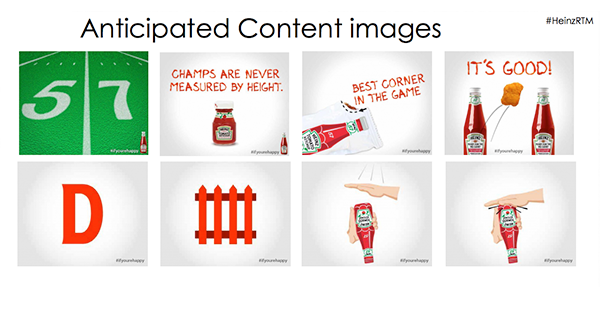 Figure 2.
And making sure everything went off with out any hick-ups, Heinz created a Social Media War Room that monitored the Internet during and after the Super Bowl.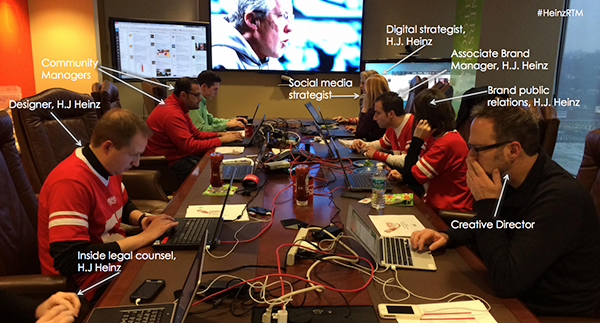 Figure 3. Social Media Task Force.
One of the most memorable live-tweets of the game came when the teams left the field at halftime. With the scoreboard showing the Seattle Seahawks ahead of the Denver Broncos 22-0 the Heinz social media team acted fast. Heinz tweeted a clever comment saying, "@Broncos Time to play ketchup" coupled with a picture of the score written in ketchup (apparently Heinz brand) on two halves of a burger.
That single tweet gained 745 retweets and was a favorite 471 times. The overall outcome was, 5.2MM impressions with its hashtag #ifyourehappy during super bowl week and 3.7MM on SB Sunday.
So, is your Destination Marketing Organization (DMO) participating in real-time marketing practices? According to Skift's social data dashboard SkiftIQ, of the more than 450 destinations listed, only 12 marketing organizations reply to travelers' tweets in less than two hours. In social media time, two hours can feel like an eternity, especially for a tourist looking for real-time information. For DMOs, the goal should be to provide same-day information to travelers. For example, Visit Seattle's Twitter account is just as active on the weekends as the weekdays. And their average response time to travelers' tweets is 64-minutes.
References
Figure 1, Figure 2, Figure 3. How Heinz Ketchup Cut Through the Real-Time Marketing Clutter During the Big Game. Retrieved October 6, 2014, from: http://bit.ly/10zzAcH
Giallanella. J. & Anderson, J. (2014). 1. How Heinz Ketchup Cut Through the Real-Time Marketing Clutter During the Big Game. Retrieved October 6, 2014, from: http://bit.ly/10zzAcH