I was curious about SEO-related questions our sales team and account managers get when they are meeting with prospects and customers. Below are five of the most frequently asked questions and short(ish) answers I put together. My next post will address the other five, rounding out the full "Top 10" list.

1. Can I just do SEO for a few months?
You can, but you don't want to. Websites are organic - they constantly change and evolve. SEO is the same way. We're often asked for short SEO contracts because our clients just want to 'get SEO over with' and move on. That just can't happen. Throughout the month, we're conducting a lot of various tasks - monitoring your website via Google Analytics and Webmaster Tools, adding additional Event and Goal tracking, performing on-page optimization, answering questions, tracking campaigns, making SEO and usability recommendations, all while correcting crawl errors, broken links and spelling errors. We're also analyzing the information coming through and making adjustments, while staying on top of current research in the SEO field - reading blogs and newsletters, attending conferences, following the major SEO players, performing trial and error on our sites, etc.

2. Can you get us to rank for this super general term, like 'ski'?
While the traffic numbers for very general terms can seem enticing, there are two major reasons why you would not want to pursue such broad keywords.

One is sheer difficulty. Google has decided to bias itself in favor of major brands, especially for brand terms, as a means of keeping low-quality sites out of its rankings. Sometimes this isn't fair, but it means that it's extraordinarily difficult to compete with major, widely known and visited sites for keywords used by people looking for information not relevant to your destination.

The second reason helps us understand why this isn't such a bad thing. Of all the people searching for information on some broad subject that is not related to your destination, the vast majority will not be looking for the type of content you have to offer. That is to say, they're not well-qualified leads. Just as it wouldn't be productive to blast your email to large numbers of people that are not interested in what you have to offer, it wouldn't be productive to invest the resources necessary to gain rankings for a very broad term given the low conversion rate you're likely to experience with that prospective audience.

3. We need a guarantee that we will have the top 10 search engine rankings for target keywords. If I pay you to do SEO, is this in the bag?
The goal of any online marketing campaign should be increased exposure, traffic and conversions. While all of the on-page and off-page optimization we do will most likely increase your rankings over time, nothing is 'in the bag.'
Google alone changes its algorithm 500-600 times a year; while most of these alterations are minor, every once in a while Google rolls out a major update to their algorithm that may affect your website in major ways. We stay on top of what popular search engines (such as Google, Yahoo! and Bing) are doing and make changes to the way we are doing things when needed.

Additionally, there are thousands of words used each year to search for your site, some of which are "long-tail" (longer and more specific, but are less common). So, if you just focus on how you're ranking for those 10 "short-tail" words (the most popular or frequently searched) you're missing out on thousands of other terms. These "long-tail" terms may send less traffic, but the visitors will be more likely to be highly qualified and more apt to make conversions on your site.

At Simpleview, we track your rankings monthly for a minimum of 25 keyword phrases, but we're constantly adding to that list. And through our monthly correspondence, you're getting much more than that. You can't forget about those thousands of other phrases that can potentially send traffic to your site. As Google starts to look at you as the authority on all things your destination has to offer, you will start to rank for a lot of those long-tail keywords (increasing your traffic), regardless of if you're ranking #1, 2 or 3 for those keywords that you deem most important (but may not be keyword phrases that convert). 

4. Do you do this in-house or is this a third party?
Our SEM team operates here at Simpleview. We're a department of 14 people (a few missing from the group shot below), and growing. We will never outsource the SEO work on your website.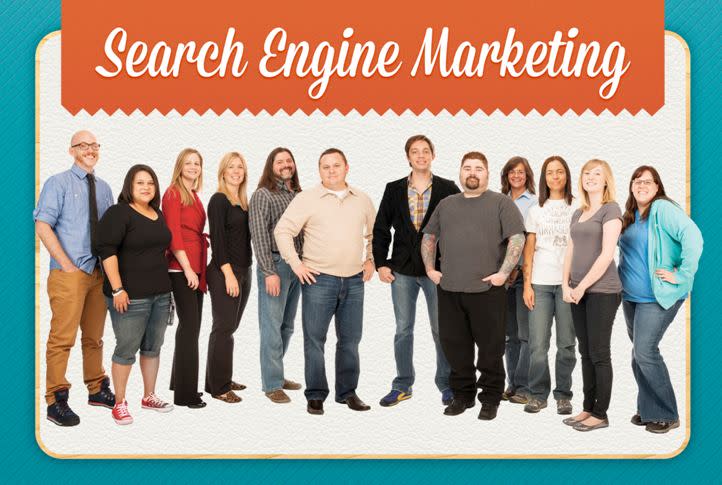 5. Do I get one person working on my account? I only want one contact. What do the reports look like?
You will get one SEM analyst that you'll work closely with every month. This is the person who will hold your monthly calls, be available to answer questions, send your reports and email you throughout the month with suggestions. Although that analyst has a team of 13 other people working with her/him, you will only need to remember one person's name to contact with any questions.

As for the reports, we can send you a sample SEO report at any time. Just give us a call.