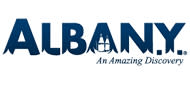 Albany County - New York's capital region - has enticed visitors for more than 400 years with historic sites, fabulous attractions, family-friendly amenities and entertaining events. To help market the best of the destination online, the Albany County Convention & Visitors Bureau collaborated with Simpleview to revitalize their site design and functionality.
With a fresh look, the CVB received a new Simpleview customer relationship management (CRM) system and content management system (CMS). Both systems allow their staff to enhance their workflow and productivity through cutting out the time needed to update the site's content or communicate with their members and partners.
Our creative department integrated a primary color palate to apply on all site icons, headers and other graphics. This kept with the bureau's wish to have a clean, crisp look that is easy to navigate. A background using these colors invokes a watercolor painting of Albany's skyline, calling to attention the county's vibrant arts culture.
The site navigation is meant to be as simple as possible, making it easy for leisure travelers to find the area's attractions and events. Additionally, imagery of the city's river system runs throughout the site, pointing out the region's history with the Hudson River.
Not only did the Albany County CVB receive all new tools and fresh creative from simpleview, they will also begin working with our revenue generation division - the Destination Travel Network. This allows the bureau to place advertising on their site to help draw attention and increase traffic for their member and partner businesses, such as hotels, restaurants and shopping venues. DTN adds a new revenue stream for the CVB, allowing them to invest in future marketing efforts with ease.
Discover all that Albany County has to offer with the CVB's new site - www.albany.org.