Irving, Texas has many of the key elements that a meeting planner needs to be successful - a central location to the Dallas-Fort Worth Airport, more than 75 hotels and 11,000 rooms for visitors to enjoy, as well as a gorgeous convention center that has welcomed hundreds of groups. 
Our team worked closely with Irving's Convention and Visitors Bureau on developing a new customer relationship management system (CRM), content management system (CMS) and a fresh look for the CVB and Convention Center sites.
     The Irving Convention and Visitors Bureau's Website - Before and After Screenshots
     The Irving Convention Center's Website - Before and After Screenshots  
As the city does focus on attracting meeting and event professionals, the two sites were developed to accentuate their business focus with a clean, high-end look. Our creative team also developed the design to reflect the CVB's traditional collateral layouts to build a cohesive brand. This is particularly shown through a site-wide header, which provides a tile-based view of the city's attractions and was used in all print materials before the site was developed.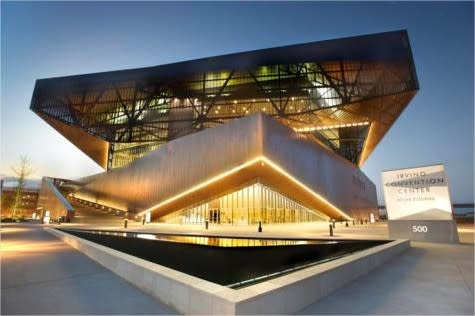 Specifically with the convention center's site, our team built it to reflect the physical characteristics of the unique features of the meeting site. This included backgrounds that put emphasis on the site's wall and floor textures, slanted lines to match the center's distinctive roofline and other distinguishing aspects. 
Our development team also created a mega-widget to help the destination attract visitors and meeting planners alike, which contained multiple widgets inside a larger package. From this portal, one can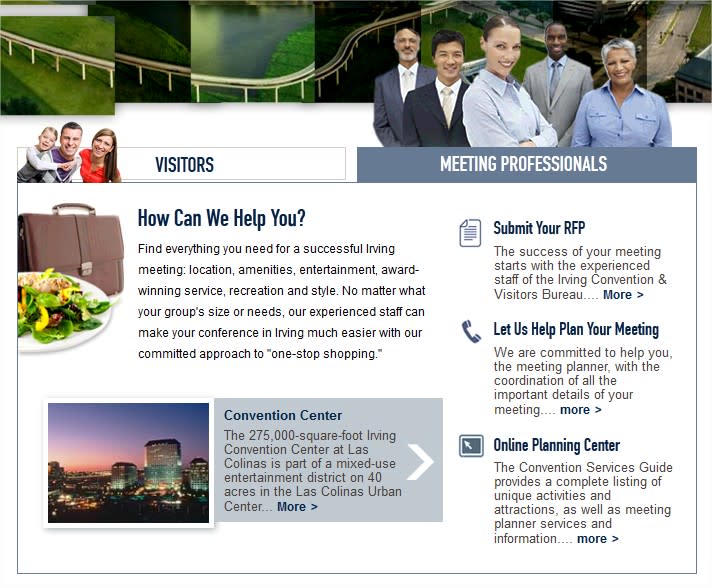 submit an RFP, directly contact an event coordinator at the CVB, sign up for newsletter mailings and more. This widget also is image-rich, allowing for staff members to highlight partner events and activities with pictures at ease. 
As we've learned throughout this process, Irving is truly a great location with access to world-class amenities. We're excited to have collaborated with the CVB and Convention Center staff on this marketing effort and we hope you enjoy the work we've done together.