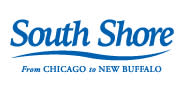 Just a short drive from downtown Chicago lies the South Shore - an Indiana-based community that sits against Lake Michigan and offers excellent restaurants, several lakefront casino boats and miles of beaches. It truly is a mix of big-city fun and small-town friendliness.
The South Shore Convention and Visitors Authority (SSCVA) has been a long-time client of ours. Over the years, our teams have worked in collaboration to continually rejuvenate interest in the destination and further emphasize the many reasons to visit.  In this latest campaign and effort, we have included a full overhaul of their site's design.
With the new site, our creative team used vintage travel posters from South Shore as inspiration. Images of models sitting along Lake Michigan's beaches or people participating in the region's famous Pierogi Festival have been brought to life on the site's new header. The result is a clean and minimal look throughout SouthShoreCVA.com that evokes the destination's history in a fun way.
On the bottom of the site's homepage is a "Uniquely South Shore" module, allowing visitors to click customized icons to learn more about the area's great hotels, events and attractions. The SSCVA can use this tool for cross-pollinate the site with contextual content, leading people to pages they may not have originally intended to find. And with Simpleview CMS, the bureau's team can swap out the images, text and icons with ease.
Social media feeds were incorporated throughout the entire site too, allowing visitors to easily find the CVA's new content on Facebook, Twitter and YouTube. Regardless of which page somebody lands on, the feeds are easy to access at the bottom of each page.
Whether you want an action-packed day on the lake or a relaxing evening at one of the many lakeside restaurants, the South Shore Convention and Visitors Authority has plenty to share with you about their Midwest destination on their newly redesigned site. Pop on over to SouthShoreCVA.com to check out what is new and great on the south side!