If you've spent time in Google Analytics, you may have walked away with more questions than answers - there are so many metrics, it can be easy to get lost. 
For this reason, our VisitApps team has spent the last three months tirelessly poring over Google Analytics so you don't have to! In this first VisitApps Passport metrics post, we detail what to look for, how to find it and why it's important. If you don't have a Passport, here's your chance to see the at-a-glance reporting you would have access to in Google Analytics.
There are three key metrics to be on the lookout for: "sign_up", "level_up" and "passport." These are located on the left side of your dashboard once you click on "All Events."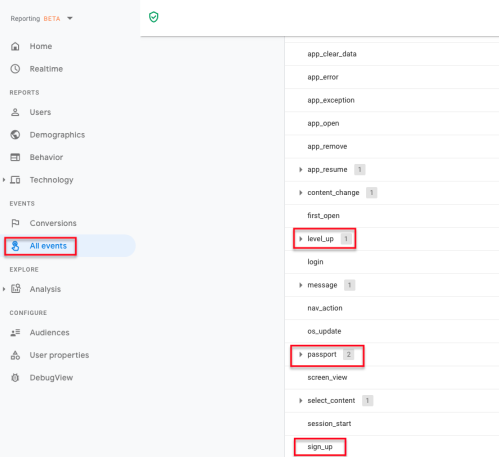 A "level_up" event happens every time a user reaches a new level of a passport. A "sign_up" event occurs every time a user signs up for a passport. A "passport" event happens every time a user checks in. Regardless of which metric is the most important to you, you'll find that each event has a very detailed page associated with it. We find that the "passport" page is particularly useful; if you scroll to the bottom of the page, you'll find a table that shows how many of your listings in the passport had check-ins.
Knowing how important having geo-qualified data can be to your passport member/partners, it's worthwhile to note how straightforward it is to prove that a user was physically in a location. This is precisely what the passport metric shows, an accurate figure representing exactly how many people checked-in at a designated listing with your app. "Sign_up" and "level_up" go hand in hand with these metrics as they indicate the health of your passport, e.g. how many users are using the passport and to what extent.
    
Having these metrics readily available in Google Analytics gives you instant access to these numbers, with easy-to-read charts and graphics indicating how well your app is doing. And when passports are fully integrated into the Simpleview CRM, you'll have even more information at your fingertips. In the future, we'll be creating some material on how to create infographics using this information from within Google Analytics and perhaps down the line, we'll be exploring using Google Data Studios.
As always if you have any questions our team is always happy to help!