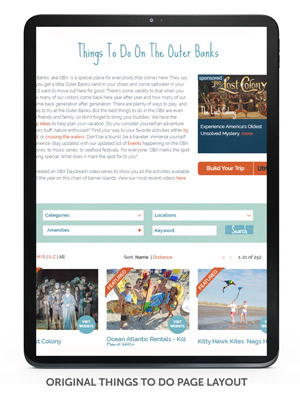 Earlier this year, the team at Outer Banks Visitors Bureau was looking for a way to increase awareness and engagement for sub-pages of the Things To Do section of their website. They were primarily utilizing a horizontal sub navigation below the header of the page to drive visitors to the things to do sub-pages, such as Attractions, Lighthouses, Water Activities, etc.
After a quick analysis of the Outer Banks website, Simpleview's CRO team identified that aside from the navigation, there weren't any bold call-outs for the sub-pages anywhere on the site. The existing layout of the Things To Do consisted only of intro copy and listing details.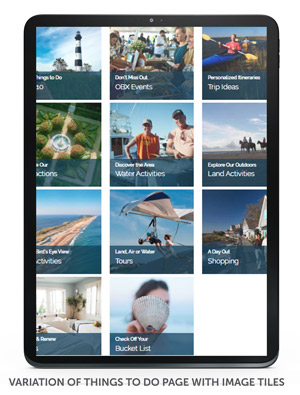 Sometimes, when a visitor enters a website they are unsure how to find the information they are looking for. While listing filters can help, creating predefined categories of content alongside a quick and easy way to view those categories, can help funnel visitors into desired sections of the website and enhance the user experience by making information easier to find. Therefore, Simpleview expected that adding navigation tiles below the intro copy would significantly increase overall engagement.
Our team used Google Analytics to analyze which pages were receiving the most traffic and had higher engagement. From there, we implemented a three-column Image Box display on the Things To Do page that highlighted each of the secondary things to do sub-pages (including titles, descriptions and calls-to-action).
After running for 29 days across 12,000 visitors, the data showed that adding Image tiles proved effective, increasing overall engagement by 73%.