Hello friends!
2016 was an eventful year! But do I really need to tell you that?
So much has happened in the travel marketing space. Google made several changes that made having a solid SEO and paid search strategy more important than ever. We've seen updates to organic search results, the removal of right side ads, moving to a mobile-first index, penalizing certain interstitials, and even Google Trips-the list goes on and on. Facebook ads have also exploded, but with this growth came questions of integrity within their own reporting. It was truly a wild 2016, and I, for one, am happy the New Year is now upon us.
New Year, New Exciting Changes
Over the last few years, consumer behavior underwent huge shifts. Increased demand for personalization and the growth of digital marketing channels triggered these changes. Visitors are now overwhelmed by an abundance of information and options, which is magnified by shorter attention spans to navigate them. This means that destination marketers need to adapt to this new landscape as the traditional purchase cycles we once knew are no longer in place. Consumers still spend most of their purchase-decision time doing research online, prior to contacting the vendor online or "in-store". This is where DMOs fit in perfectly. It is now the role of destination marketers to educate and guide these consumers during their research process with content that addresses their personal needs and provides faster solutions for a mobile-first world.
With the new year and the necessity of adapting to this changing landscape, we have several exciting updates for our department. After months of hard work, patience, and even a few beers to get us through the tough days (and nights), we're delighted to announce that the Search Engine Marketing Department has now evolved into the new Digital Marketing Department.
These changes mean seamless communication amongst all digital marketing teams (Research, Content, SEO, PPC, CRO, BI, etc.), which in turn delivers better-aligned online marketing results for you, the DMO. It also means we now have what it takes to deliver on all six steps of the digital marketing cycle:
New Changes Come With New Roles
These changes have also come with new roles and promotions within the Digital Marketing Department. First, Paul McLeod is now the Director of Business Intelligence, where he'll directly manage our SEO and Destination Dashboards teams. Those lucky enough to have worked with Paul know that he is a true SEO and analytics expert, which makes him an excellent fit to lead these teams into the new year and beyond.
Sandee Jordan has also earned a new promotion and recently transitioned from Senior SEO Analyst to the Director of Content Marketing. If you've worked with Simpleview for any period of time, you've probably already come to know Sandee. With her engaging personality, she is a regular speaker at industry events, sings in the house band, and provides countless more solutions for Simpleview clients that are too many to mention here. Sandee brings her deep knowledge of SEO and content marketing to the role of Director where she will be overseeing our email marketing, social media strategy, and content creation teams.
"So Jason," you ask, "why is this important?"
Our objective for this department update was two-fold. First, although we have been consistently outperforming industry averages across the board for years, we wanted to further differentiate ourselves as leaders in the marketplace. Second, we wanted to be the first to provide destination marketing organizations with all of the services needed to deliver successful digital marketing campaigns all under one roof. No other agency in this space today can say that. Some agencies provide content, some offer SEO, some do paid media, and some deliver media buying. No one, until now, has offered each piece of the puzzle that builds the big picture of truly successful content marketing campaigns. And content marketing campaigns are at the core of what we all do, right?
If you do a search on Google for "digital marketing cycle" you're bound to find dozens, if not hundreds, of results. Simply put, delivering a successful online marketing campaign from start to finish involves research, creation, optimization, amplification, testing, and proper measurement of content. With this evolution of our Digital Marketing Department, we now provide services that address all six stages of the cycle: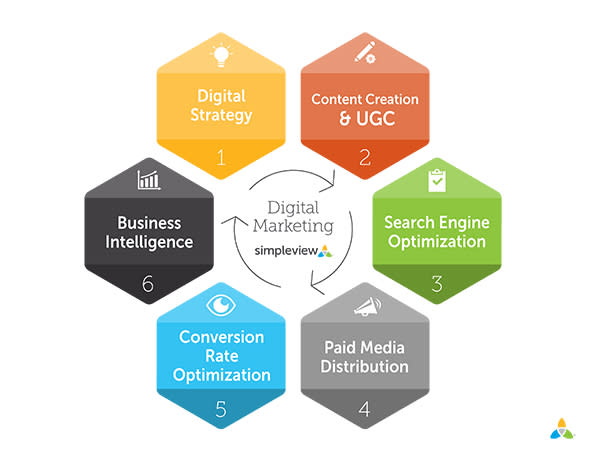 After personally listening to and learning from countless phone calls, site visits, conferences, meetings, and DMO interviews, one theme kept resurfacing. That theme, for lack of better words, was that the left hand never seemed to know what the right hand was doing. Let me explain. Research (if any) to better align goals and direction was rarely shared throughout the organization, and among marketing teams, and agencies. Content teams didn't know what the SEO team was doing, SEO didn't know what the paid media team was doing, testing and conversion optimization (CRO) wasn't even happening, and metrics for success were often misaligned. Many times, metrics didn't even support objectives and goals. This is a huge problem which translates into thousands of wasted dollars, fragmented targeting, and poor user experience for potential travelers.
With our department restructuring, we are now aligned with services to address and connect all of these essential elements for you, in a way that serves everyone successfully-from your visitors to your board members: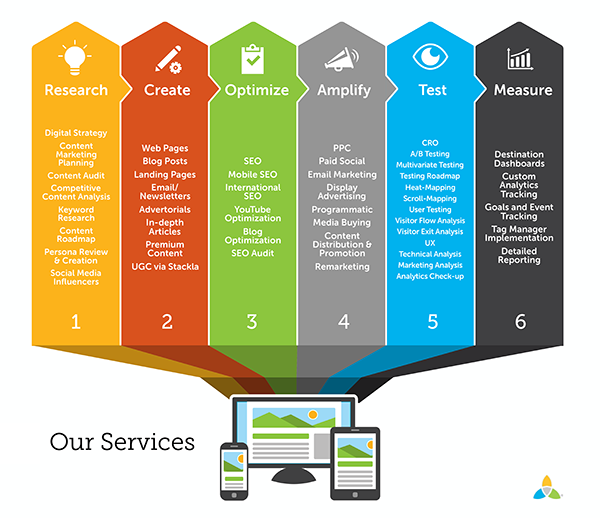 Please visit our website to explore new services and dig deeper into how our team is uniquely positioned to help you deliver on your goals for 2017 and beyond.
In addition, we'll be providing a full content marketing track at Summit this year to show you the best way to approach content marketing. Visit the Simpleview Summit website for more about sessions that can help you win in 2017.
Our resolution is to deliver industry leading digital marketing solutions that connect travelers with destinations. What's your resolution and how can we help? Let me know and thank you for a great 2016!
See you at Summit,
Jason Swick
Director of Digital Marketing
Simpleview, Inc.