There's nothing more stressful than managing a mess of photos, videos, audio and other marketing materials — that is, when you don't have an easy-to-use system.
That's where the Simpleview Digital Asset Management (DAM) comes in. It seamlessly brings together your content library, saving your team members time, while increasing productivity and efficiency. Every day we are working to make the platform a little bit better, and some of our recent updates are pretty … DAM exciting, if we do say so ourselves.
Vimeo implementation is complete
The front-end Vimeo video preview is ready for its debut! We are sunsetting the Flash player from the platform, and all videos are being migrated across to Vimeo. Note: As previews are migrated to Vimeo, they will be played from that host. Sit tight on the previews still being played using Flash, as they are in the queue to be migrated.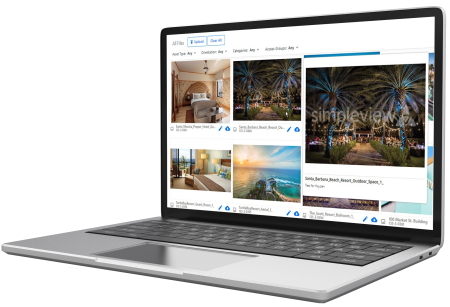 A clean re-branding
All preview images will now display with the 'Simpleview' watermark, providing a consistent brand experience for all users across multiple platforms. Customers with a custom client watermark will of course retain that. 
No more squinting, we've got crisper thumbnails
Thumbnails now are being generated at higher resolution, which means that they will appear much more sharply as part of the image grid — notching a win for user experience. 
Updates to the Users Grid and Admin Users Grid
As part of Simpleview's continued efforts to modernize the DAM platform, the Users and Admin Users review list views have been updated to match our transitional user interface. You'll find that this results in faster load times, in addition to providing enhanced functionality, and additional features, such as bulk actions to activate/deactivate users and additional columns available. Users can customize their list view columns via the Table Settings drawer making it even easier to quickly access the information they access most frequently. 
Want to find out how the Simpleview DAM could help your team work smarter, faster and create more compelling content in your destination? Reach out to our team to learn more.