Destination marketing organizations (DMOs) are regularly issuing well-crafted articles and thoughtfully produced videos on their website, all to reach travelers and give them reasons to visit. It is an excellent approach and addition to any overall marketing strategy, as a compelling story can be a key factor in turning a prospective visitor into one who books their tickets and hotel rooms with excitement.
However, content marketers and strategists at the DMO face a problem - too many opinions with not enough facts to substantiate them. From the CEO all the way to the administrative assistant, everybody at the organization has ideas on the best ways to market a destination. In addition, the local community will also have their own ideas and will likely be sharing those with the DMO via social media or in-person meetings. Some people will focus on the actual stories that need to be shared, whether those are about specific sections of town or particular businesses that supposedly deserve more attention. Others will focus on the medium and delivery, whether it needs to be shorter or longer posts or more videos and less text.
There is a solution to this issue. Using tools available to most DMO marketing professionals - Google Analytics and a content management system (CMS) - there are some ways to determine which stories people will find to be interesting and how to share that story in a way they'll ultimately enjoy.
Dive into your CMS
By looking at your CMS, you should be able to easily see the menus/navigation items of your site.  Many DMOs will structure their site content into items such as "Things to Do," "Events," "Restaurants," "Hotels" and similar items. Simply start counting the amount of content - i.e. pages, links, articles and media files - under each one of the main sections.
Determine the unique pageviews for each main navigation item.
Looking at the main navigation items, count the unique pageviews for each of those overall menus. This will show the number of distinct individuals that visited those pages, regardless of how many times they visited.
Compare the results against each other
Having raw numbers, take the data and plot them into a chart to determine overall percentages. This should highlight mismatches where you have lots of visitor interest in a particular aspect of your destination, but with little to no content to provide to the audiences. On the opposite end of the spectrum, you will also see sections of the site that have a large amount of original content, but not many people are reading or viewing those pieces.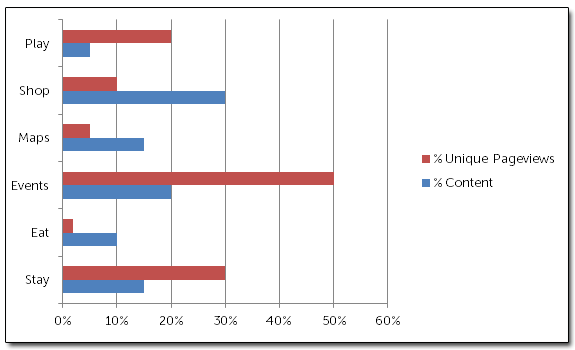 Using this example, you can see that this DMO has a lot of material about the shopping options in their destination, accounting for 30 percent of their overall site content. Yet, "Shop" and its associated pages only bring in 10 percent of the site's unique pageviews. An item like "Play" has an opposite situation -the menu and its sub-navigation items account for 20 percent of the site's unique pageviews, but only offers 4 percent of the site's content.
Use the data to your advantage
Continuing with the example, one should ask why so much time and effort is being invested into emphasizing the destination's shopping, where people are clearly more interested in the nightlife, sporting events and entertainment options in the city. As producing videos and paying for guest authors can be expensive, it's important to re-prioritize those efforts. Rather than working off assumptions on what your visitors care about, now you can trace back data on their actual interests and build your content strategy around their wants.
It also is worth using this data to evaluate the overall quality of your content, as a content strategy should not be solely based around how much content we can ultimately produce. If the amount of people visiting "Eat" are so minimal in your overall unique pageviews percentage, it could showcase an issue with people choosing to go to sites like Yelp or TripAdvisor instead of yours for the information they want. Through your Google Analytics account, you can determine your visitor's exit points on any navigation item to prove this point or not.
Ultimately, analytics matter. Marketing professionals should be fans of having proof that they are making the right decisions. Comparing available data such as percentage of unique pageviews and percentage of content is something that can help guide any content marketing conversations.