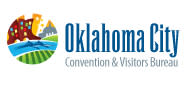 Congratulations to the Oklahoma City Convention and Visitors Bureau for receiving the 2013 Best Website RedBud Award from the Oklahoma Travel Industry Association. The CVB was honored at the OTIA's RedBud Awards Ceremony, which is an annual event recognizing Oklahoma tourism attractions, Convention & Visitors Bureaus, Chambers of Commerce, ad agencies, event managers and regional marketing organizations for their outstanding efforts to serve and promote Oklahoma's tourism industry.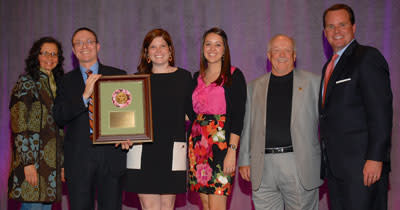 The Oklahoma City CVB team receiving their 2013 RedBud Award for Best Website. Pictured from left to right: Jenifer Reynolds (MC for the awards), Seth Spillman (Director, Marketing and Communications), Elisa Milbourn (Communications Manager), Brittany White (Marketing and Communications Coordinator), Mike Carrier (President), and Oklahoma Lt. Governor Todd Lamb (MC for the awards).  
"RedBud Awards represent the highest honor given in the Oklahoma tourism industry," said Debra Bailey, President/CEO of the OTIA." This year, we received entries on behalf of outstanding tourism efforts from all across our state."
The Oklahoma City CVB's site - VisitOKC.com - has been recognized by other travel and tourism industry organizations since launching its latest version. This includes receiving a 2012 Bronze Adrian Award from Hospitality Sales and Marketing Association International.
As Simpleview was a partner on VisitOKC.com, we are excited that this forward-thinking bureau has been continually recognized for their site and hard work. This site is just one small step the team is taking to attract visitors to this hip, spirited destination that blends their deep western heritage.
For more information about the RedBud Awards, read OTIA's full press release. Details about the Oklahoma City CVB's site build can be found in our case study.