Tucson, September 19, 2011 - Simpleview is pleased to unveil the redesigned NewOrleansCVB.com with a look as distinctive as the city itself.
Jewel tones mark the site with a Mardi Gras color theme. Large, bright graphics give the new site a vivid look while New Orleans culture, tradition and history are ingrained into the imagery throughout the site. The homepage interactive slideshow features sleek animation, with additional elements of the header slowly rolling into view. The user can control the slideshow using the street sign as well as the info orbs. Click the New Orleans street sign on the home page to navigate through scenes promoting the city's major attractions, then mouse over the subtle fleur-de-lis icons for more info.
Driving across the very top of the site you can see a celebrated trolley of New Orleans; trolleys still serve as a chief form of public transportation throughout the

city today. The CVB can control the text and picture in the dropdown sign activated when the user clicks on the trolley. The trolley glides across the screen randomly throughout each site visit, although the light post signals when it is coming and going.
Attention to detail can be found on every page of the New Orleans site when it comes to design. The footer of the site was designed with the streets of New Orleans as inspiration. The tiles in the footer reflect the tiles that can be found on the streets in New Orleans - something any visitor of New Orleans would immediately recognize.
Customize your stay with activities, tourist locales, festivals and restaurants courtesy of New Orleans'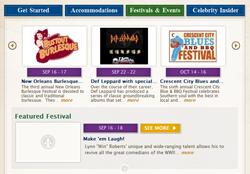 itinerary builder application. New Orleans has three different featured events widgets due to their crazy events schedule, with an event happening at almost all times. Get a feel for what's happening in New Orleans during your visit with their updated Calendar of Events module. New Orleans' upgraded video and photo tour hosts a wider variety of videos and photos available for download or to send as a virtual postcard. Don't forget to check out what special offers are in season during your trip, always a prominent feature on NewOrleansCVB.com.

New Orleans - it's different here.