New CMS Dynamic Content Module Feature: Personas
Personalize your Website Content to your Visitors
Why Personalize your Web Content?
Personalizing content to your website visitors can help make their experience more relevant to their decision making process. If your content resonates with what they're looking for in a destination—be it a wedding venue or a surfer's dream waves, you're more likely to keep them engaged and potentially convert them.
How Your CMS Dynamic Content Module Can Help
The Simpleview CMS Dynamic Content Module already allows you to serve specific content to your site visitors based on location and whether or not they are a new or returning visitor. Now, with the addition of Personas to this module, you can also personalize a visitor's site experience based on his or her interests, and interests that fit your specific destination. The result is tailored, engaging website content for "Foodies" or "Outdoor Enthusiasts", for example.
How the New Personas Feature Can Help
Personas are interests that you establish and manage within your CMS based on popular visitor interests in your distinctive destination. Within the Dynamic Content Module you can now:
Build out personas of your choice (ex: Family; Romance).
Tag both existing and new content (nav items, blog or article posts, CRM listings data) as fitting a persona.
Create content to address these personas, build it out, and preview it before posting it.
Outer Banks has created several calls-to-action under two main persona categories, Outdoor Activities, and Arts/Culinary Attractions, with content tailored to fit those personas. This was a great opportunity for them to showcase multiple destination attractions with a highly targeted audience in mind.

Pocono Mountains has created personas to fit the intentions of site visitors by grouping content into a Family persona and a Romance persona. The results are a list of highly visual and relevant "Things To Do."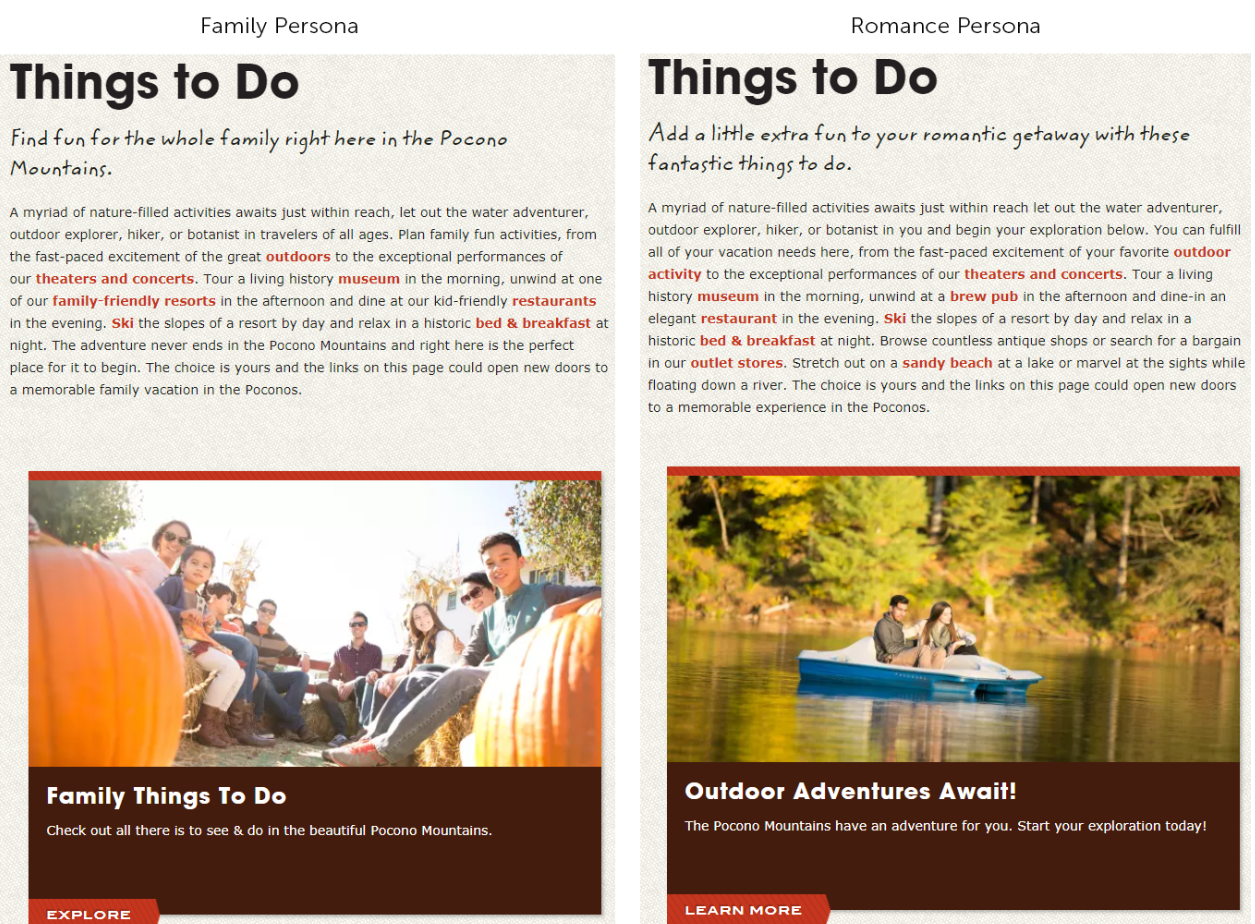 3 Tips for a Successful Persona Marketing Initiative
Focus on your destination's appeal. Know what high-value visitors are primarily looking for in your destination and address that with the personas you choose. Look at how people identify YOUR destination. Don't necessarily try to match the personas of other destinations.
Determine a manageable number of personas. This may be one or it may be six. Keep in mind you're not just putting personas into place; you need to be able to build and maintain the right content around them.
Persona types should be clear and easily definable. Keep it simple so a majority of people can easily identify with each type. Probably more visitors will define "outdoor activities" in a similar way than will define "adventure seekers" alike.
Ready to enable the Personas feature in your Simpleview CMS? Contact your account manager today.