Adding digital advertisements to your destination marketing website can be scary. As digital marketing professionals, we completely understand. You've carefully crafted a digital masterpiece to showcase the city, county, state or territory you passionately promote daily. Won't ads disrupt the aesthetic? Interrupt your carefully crafted messaging?
Not with DTN. Destination Travel Network's passion is to tastefully spotlight your tourism stakeholders using thoughtfully designed ad placements that bring referrals to your industry partners, and revenue to your organization.
Simpleview reached out to Destination Travel Network's Senior Director of Revenue Generation, Paul Franke. We asked him some common questions and he gave us answers we think will help put your mind at ease when it comes to monetizing your tourism website. He also offers a glimpse into the possibilities.
---
I understand the most asked question from interested DMOs is what the website will look like with digital advertisements. So let's start there. How do these ads affect the look of these websites?
---
PF: The marketing department is usually one of the first teams I speak to at a DMO. They have a stake in the website. In many cases it's their baby, and the thought of putting advertisements on their website immediately brings to their mind the worst website advertising on the internet: websites filled with full-page takeovers, auto-play videos, peel-away images—all of those crazy digital advertisements that are obtrusive and create a terrible user experience.
Like many DMO marketing teams, we are all about user experience on the destination website ... No one at DTN wants anything on a website that will damage the DMO's brand authority, adversely affect website performance, or tarnish their image as the official marketing gateway to the destination.
Digital advertisements served through the DTN Ad Network are developed to blend seamlessly with the established brand and style guidelines. By using native advertising techniques, DTN ads are not obtrusive or irrelevant. The only businesses allowed to participate are the DMO's stakeholders. You won't find ads for toothpaste or macaroni and cheese. You will find ads of the very businesses visitors are using the website to find.
---
If you're not selling pop-up and peel-away ads, just what kind of digital advertisement placements does DTN offer to DMO members and partners?
---
PF: DTN's digital advertising placements are diverse. We do not use a one-size-fits-all approach. Instead of running a 300 x 250 pixel run-of-site banner on every website in the same spots, DTN developed seven style options that fit seamlessly within a web design. The DMO can choose which to deploy on their website to meet their partnership or membership requirements. Some DMOs feature two types, others offer all seven, and then there's just about any combination in between.
We've found that when DMOs offer a variety of placements to advertisers, we have the ability to customize digital advertising campaigns and put packages together to best meet the needs of varying marketing budgets. Larger partners can choose packages that may run ads in multiple placements across more pages or that are highly targeted, while smaller businesses can control costs by adjusting those details. Spots can be mobile-only, run-of-site, and page specific.
Opting for digital advertising doesn't mean print advertising is dead by any means. Digital advertising campaigns give a DMO another avenue to offer referrals to their members and partners. These placements are dynamic and easily updated throughout the agreement term. Plus, ads direct-click to stakeholders' websites so they can see the return on their investment with reporting provided by DTN.
---
As of this January 2018, DTN is working with 155 DMOs. What kind of markets do these DMOs represent?
---
PF: DTN works with 155 DMOs in markets of varying sizes offering a variety of website types and styles. We can serve all of them. Destinations we serve are from coast to coast, large and small, and are at the state level, the city level, and the county level.
To give you a better idea, some cities we serve include Asheville, NC; Spokane, WA; Albany, NY, and Vancouver, BC, plus states like Kansas, Maine, and New Mexico. There are counties like Rowan County and large areas like San Luis Obispo. The diversity of our portfolio has developed our staff's expertise and experience.
---
In addition to serving travelers and meeting and event planners, DMOs work to serve their tourism stakeholders. What value does DTN give to these tourism members and partners?
---
PF: DMOs are looking at more than generating revenue when they look to DTN to develop their digital advertising program. DMOs are tasked with generating referrals for their members and partners. These hotels, restaurants, and attractions are looking for business.
DTN can show them they can drive impressions through a variety of digital advertisement placements. To give you an idea of what is currently being served to DMO stakeholders through the DTN ad network, here are some performance averages for the placements.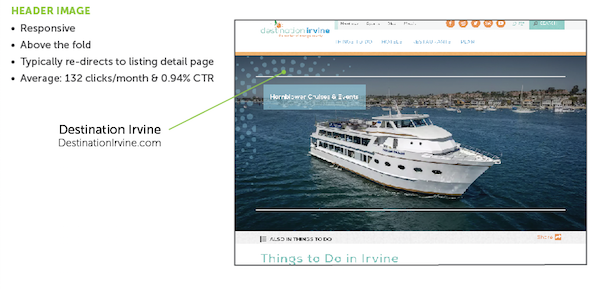 DTN has a plethora of data from the advertisements and we use that data to analyze placements and to predict in an informed way what DMOs and their stakeholders can expect on average if any or all of the recommended placements are deployed on the website. If you compare, you can see from the examples above that our average click-through rates (CTRs) are higher than the average Google Ad Network performance for display banner advertisements.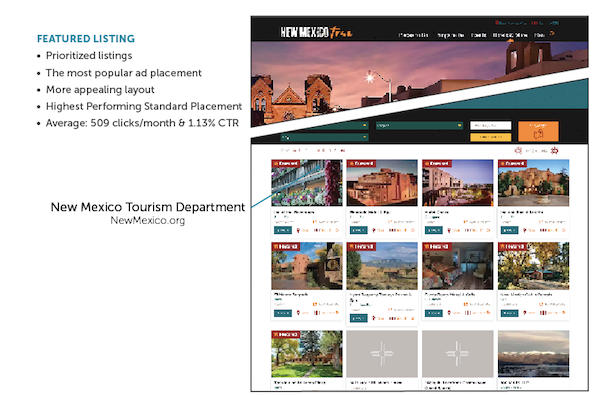 Initiating DTN just makes good sense when you look at how many clicks or referrals you're likely to generate on average each month to your stakeholders. DMOs can provide thousands of referrals every month or year that otherwise would not exist. By doing this, DMOs can generate additional revenue to supplement the destination's marketing efforts, and referrals the local companies need to grow their businesses.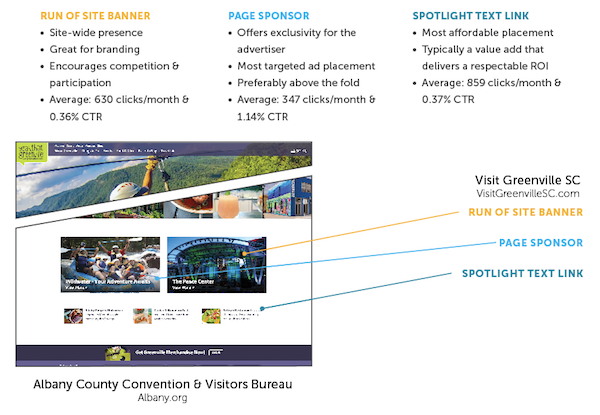 If you'd like to create more value for your partners, you can explore adding the DTN Ad Network to your tourism website. You'll find that not only do ads in the DTN Ad network look good, but the advertisers and DMOs are served by professionals who have worked with scores of large and small destinations and thousands of hotels, restaurants, and attractions. And, we have the performance numbers to back up a strong return on this investment for your DMO and your stakeholders.
Schedule a demo with Paul online.
Local businesses, learn how to become an advertiser.