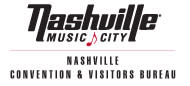 The Nashville Convention and Visitors Bureau, which is a Simpleview client, recently reported that the city's hotel tax collections reached $3.08 million this past June. This marks a record for Nashville, as the amount is 16.5 percent higher than the same month in 2011.
Butch Spyridon, president of the Nashville CVB, said meeting and business travel has started to improve and leisure travel has "gone through the roof", according to a report from the Nashville Business Journal.
We are extremely proud of the CVB's ability to build interest in their destination. Our team wishes the best with their efforts to carry the momentum into 2013 and continue increasing collection growth.
For more information, read the full article in the Nashville Business Journal.