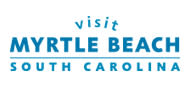 In collaboration with the Myrtle Beach Area Convention and Visitors Bureau (CVB), the latest version of VisitMyrtleBeach.com has been launched! This effort to revitalize their destination's official website should help the CVB to meet the ever-growing and ever-changing online and mobile demands of its consumers.
Working alongside with the CVB's team, we worked on improving three main areas of the site - facilitating a better overall user and visitor experience, maintaining and improving the position of the destination's brand, and helping increase business for community partners through more website referrals. This included developing a fun and vibrant design that matches key messaging for leisure travelers and groups. 
"It has taken many long hours and a lot of hard work to make sure we were able to meet all of our goals with the new site, but our website manager and the rest of the marketing team did a fantastic job coordinating the effort to ensure we were able to launch by the New Year," said Scott Schult, Executive Vice President of Marketing for the Myrtle Beach Area CVB in an official statement. "As booking and planning travel continues to shift online, so do the focus of our online efforts. The new website will be a valuable tool to visitors planning their trip to the Myrtle Beach area, and I'm proud of the work our team has accomplished over the past several weeks."
For more information about the CVB's new site launch, check out the site's new features by visiting VisitMyrtleBeach.com.