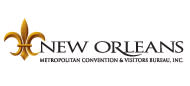 Thanks to work from the New Orleans Convention and Visitors Bureau, as well as several other area organizations, the city hosted 4.9 million visitors who spent a total of $3.45 billion in the first half of 2012. This marks an 11 percent boost in tourism revenue and two percent increase in visitations from the same time last year.
According to the 2012 University of New Orleans (UNO) Hospitality Research Center's 2012 New Orleans Area Visitor Profile, which was a study partially commission by the CVB, tourism continues to be one of New Orleans' employment sectors. Upward trends also have continued, as 2011 marked the highest tourism-related spending in the city's history at 5.47 billion.
Simpleview works with the New Orleans CVB on their technology implementations and we are extremely proud of their successes, including the positive results of this recent study. We are also hopeful that the pattern will persist throughout the second half of this year.
For more information, read the full article on MeetingsFocus.com.