Once referred to as "the Paris of the South," Mobile Bay boasts over 300 years of history as a cultural center in the Gulf Coast. Not only home to America's original Mardi Gras, Mobile hosts numerous festivals, art shows, and culinary events every year, and is home to BayFest, one of the largest and longest running music festivals.
Mobile Bay CVB's new website has many exciting features, engaging visitors at various stages online. First and foremost, the website is responsive, allowing visitors to experience the site across various devices, including tablets and mobile phones.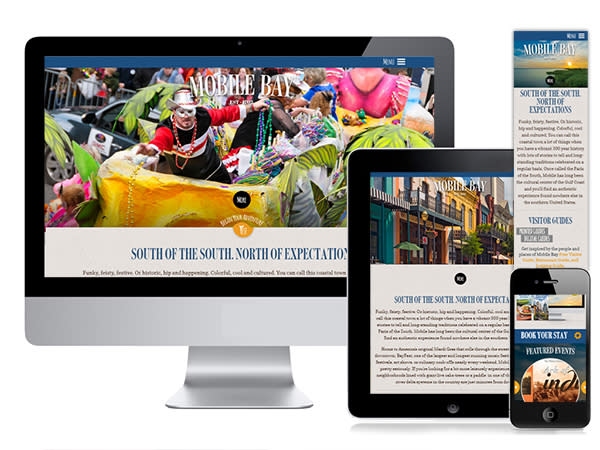 Navigation is simplified, tucked into the Menu button at the top of the screen. When clicked, the navigation slides open, revealing the various page categories, social media icons, search functionality, and even a rolling weather interface, capable of displaying the temperature for the next 5 days.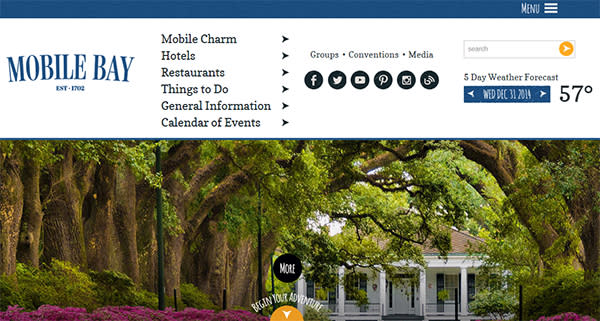 In the sub-navigation beneath header images, a second level of page organization becomes available. Within this space is a unique placement of the booking engine, keeping hotel bookings top of mind as visitors explore the website.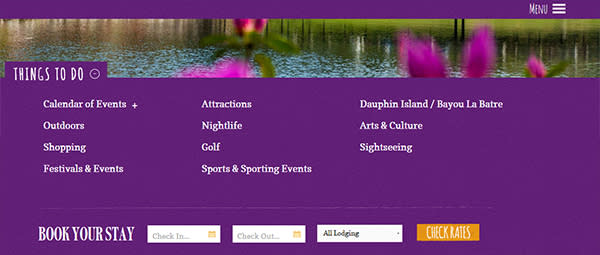 Lastly, Mobile Bay's website features fun themes as visitors explore different categories of the site. There are four different color themes: blue, red, orange and purple.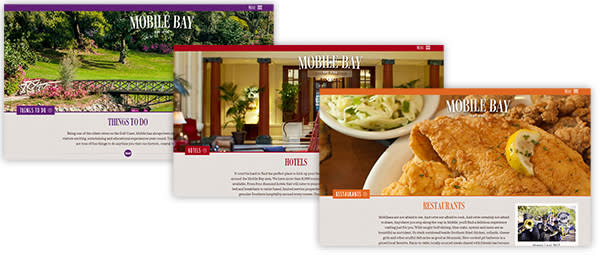 Mobile Bay's new website is colorful, festive and engaging, much like the destination itself. The above are just some of the new features on the site. Take some time and explore www.mobile.org and discover all Mobile Bay has to offer!