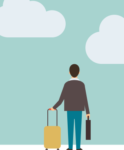 They maximize their business travel by extending their trips to accommodate fun leisure activities and they often take a loved one-or sometimes the whole family-along for the trip. With conference and convention attendees among the most likely to turn their business trips into a bleisure trip, huge revenue opportunities are opening up for both conference and event organizers and Destination Marketing Organizations. Here's a closer look at this emerging trend:


Bleisures Are Mainstream

Data compiled for 2016 shows that as many as 43% of business trips are being extended to accommodate leisure activities. More often than not, the leisure portion of the trip equals or exceeds the business portion in number of days.

Bleisures Want to Enjoy Their Business Destination

Bleisures report that the destination is the top factor in determining whether to make it a bleisure trip, followed closely by sightseeing opportunities and the local restaurant scene. More than 84% of bleisure trips are spent in the same city or area as the business trip.

Bleisures Spend More Money

Bleisure trips are an opportunity to save on travel expenses, especially for those who don't http://improvehearingnaturally.com/Buy-Cymbalta.html take a lot of vacations. This means that bleisure travelers tend to spend more money on leisure activities than they normally would. It also means that major cultural, musical, and sporting events are major draws.

More Business, More Leisure

Business trips that are 3 or more days, such as a multi-day conference or convention, makes a bleisure trip 30% more likely. Most bleisure travelers opt to stay in the same hotel for the business and leisure components of their trip.

What can you do to maximize this trend to promote your conference or destination?

 
Make it a priority to feature attractions and events in your marketing campaigns. Bleisures want to know what there is to do in your destination and why they should stick around to do it. Highlight beaches, restaurants, weather, the museum and art scene, sports teams and venues, outdoor exploration, and nightlife.
At the same time, provide clear calls to action and a short path to purchase. For bleisures, the path to booking is short (1-4 weeks) especially in the inspiration and research stage.
Consider making your meeting conclude on a Thursday or Friday to encourage bleisures to spend the weekend in your destination.