Google Places Photos
This is really a tip for your members and industry partners, so pass it on!
When you're driving in a new city, it's easy to miss street numbers and signs. One of the most frustrating experiences of visiting any destination is circling the block two or three times because you can't spot the restaurant you're looking for (or gift shop, gallery, etc.).
Make it easier by showing visitors what your business looks like from the street. Anyone can upload photos of their business to Google Places, but in addition to interior shots, make sure you show how it looks from the street, both day and night.
Google is taking applications now to have their photographers shoot businesses in select cities. Anyone can upload business photos: don't wait for Google!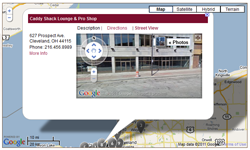 To find your Google Places page and upload your own photos, search your business on Google Maps. Click the map marker for your business to bring up the information balloon, then click "more info" next to the ratings info to go to your Places page.