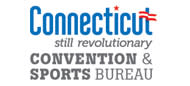 Connecticut is pretty small in terms of square miles, but it has plenty to offer meeting planners. The southern New England state is in the midst of 25% of the U.S. population, surrounded by Rhode Island to the east, Massachusetts to the north, and New York to the west and the south. And very few places can provide as many different experiences in such a manageable footprint as Connecticut, ranging from historic to contemporary venues across its towns and cities.
To help spread the word about Connecticut's excellent meeting facilities, convention centers and sports venues, the Greater Hartford Convention and Visitors Bureau formed the Connecticut Convention and Sports Bureau. This was a targeted approach to intensify outreach and marketing to meeting planners and sports promoters for international, national and regional associations.
To maximize their efforts, the newly formed bureau began working with Simpleview on building up their web presence on CTMeetings.com, which included having our creative team develop a fresh look around their new brand. They also are working with the Destination Travel Network - our revenue-generation division - to place relevant advertising on their site from members and partners that wish to promote their events, developing a new income stream to draw upon for future marketing efforts.
We are extremely excited to help develop this new site for the Connecticut CSB and encourage you to visit CTMeetings.com to plan your next event in this beautiful state. For more information about the bureau's formation, read our original announcement from July last year.