Tucson, February 17, 2012 - The Mammoth Lakes Visitors Bureau & Simpleview partnered to redesign VisitMammoth.com.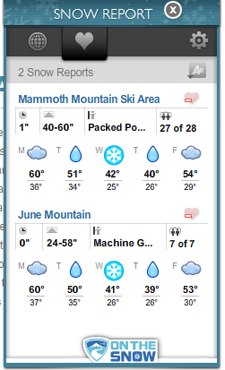 VisitMammoth.com features integrations with some of the industry's finest, including Google Maps, Travelocity, partner marketing through Destination Travel Network and integration from OnTheSnow.com, the number one visited snow sports website, which provides ski and snow reports to over 2,000 ski resorts around the globe. 
Mammoth Lakes is a small town in Mono County, California well-known for its busy ski seasons on Mammoth Mountain - an 11,000 foot peak that was once the site of volcanic activity. The mountain boasts 3500 acres of skiable (or board-able, depending on your preference) terrain, calling visitors from all over the country to experience its heights.
During the summer season, Mammoth Lakes is especially popular for camping and fishing trips. In coordination with its outdoorsy appeal to nature lovers, Mammoth Mountain again draws visitors from all over for its spectacular hiking.
The new VisitMammoth.com is an accurate representation of the appeal of Mammoth Lakes, with the site featuring backdrops from Mammoth Mountain, while action shots of winter sport enthusiasts grace the tops of the pages. The new site spans across the entire width of the page, with exciting photography, scenic backdrops, seasonal toggles to see both winter and summer seasons of the area and bold color choices in blues and greens.
Experience another side of California - with pristine secluded peaks, climate perfect for winter sports and cabins warm enough to keep you cozy at www.VisitMammoth.com.