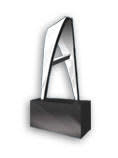 Hospitality Sales and Marketing Association International (HSMAI) recently announced the winners of its 56th annual Adrian Awards - one of the prestigious awards in the travel and tourism industry - and three of our clients have won!
Why did each site win? Today, we'll be covering the Macon-Bibb County Convention and Visitors Bureau's (CVB) website launch details and will delve into the other winning projects - the Utah Office of Tourism's site and the Oklahoma City CVB's site - in future posts. You can also read our official press release for more information about the awards.
Macon-Bibb County
After a 10-year stretch of having an outdated website, the CVB's staff was in agreement - something fresh was needed to attract visitors and meeting planners alike. Administrative staff wanted to clean up the back-end of the site to develop an organized structure. Similarly, visitors continually asked for ways to easily find events and attractions for their upcoming trips.
So, we worked with the bureau to improve functionality through a full graphic overhaul to bring the site up to today's Internet standards that showcases the area's heritage and its modern attractions. This includes designing widgets that allows visitors to easily book hotels and flights in Macon-Bibb County, developing slideshows for showcasing the region's lush scenery and integrating social media platforms into the site structure.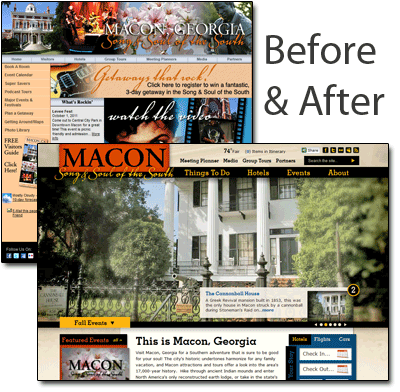 The result? The bureau saw an immediate and positive reaction to the new look. According to Stephanie Robinson, director of marketing for the Macon-Bibb County CVB, the overall product is a better reflection of the city and region.
"During the process, I could pick up the phone and ask the Simpleview team about any part of the website without delay," she said. "This was a very structured, but friendly, process where I knew every developer and manager by their first name and felt I could rely on their talents."