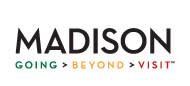 Whether you're seeking adventure in the great outdoors or a great place to get away for family fun, Wisconsin's capitol city offers something special for everyone. Their Winter Festival's Frosty 5k and seasonal playground, award-winning Madison Children's Museum and exciting University of Wisconsin Badgers' games are just a few of the exceptional attractions in the area.
To better showcase what Madison offers to travelers, the Greater Madison Convention and Visitors Bureau worked with us to redesign their website - VisitMadison.com. This included an on-site creative brief, where our team explored the city and developed a look around their experiences. This resulted in a very "clean" look that is focused on large images of the destination and allows visitors to easily navigate the site.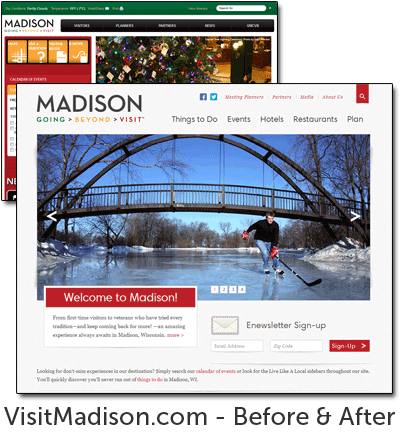 Some of the unique and new features of VisitMadison.com include:
Live Like a Local Menus - To highlight those "don't-miss" experiences in and around Madison, the CVB developed a menu to drive traffic to popular attractions that people frequent, such as the University of Wisconsin-Madison's Arboretum and the Sundara Inn. This includes a large widget on the homepage and sidebars throughout the interior pages.

Accent Image Navigation - On the bottom of each page, there is an accent image to bring people to a specific page. For example, a picture of a beer bottle will provide a snippet about Madison's microbreweries and allow people to click through for more information. Similarly, a piece of cheese will highlight some of the city's artisan food stores.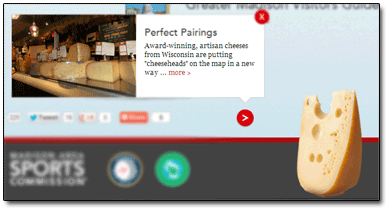 There is plenty to explore at the latest version of VisitMadison.com, as these are just a couple examples of what has been renovated. Jump on over to the CVB's new site and check the array of accommodations, eclectic mix of menus and plan a personalized stay using the bureau's tools.