This fall, Laurel Highlands Visitors Bureau announced a brand new interactive experience for onsite visitors and locals. Called The Laurel Highlands Pour Tour, this intoxicating adventure is designed to offer a seamless way to enjoy the delicious craft beverages made in the area. The DMO curates your experience by way of a physical passport book or the option to download the handy and sustainable VisitApps passport app. It's a beautiful thing when two worlds collide! 
"The Pour Tour is perfect for finding a new brew, enjoying a wine tasting with friends and traveling someplace new to change up your next night out," says Jay Bell, owner, Bella Terra Vineyards in Hunker, Pa. 
The Pour Tour includes 31 wineries, breweries, distilleries, meaderies and cideries. The Passport lets you collect points, level up and earn exclusive prizes such as t-shirts, insulated growlers and even a chance to win a two-night getaway for two!
"Laurel Highlands has always been known as a great place for outdoor adventure," says Bell. "Over the last 10 years, the quality and creativity of wines created in our area has definitely grown. With the addition of breweries and distilleries opening, we've become an up-and-coming destination for craft beverage fans. There's so much to see and do here – hiking, biking, art galleries, museums, restaurants. We're ripe for the picking."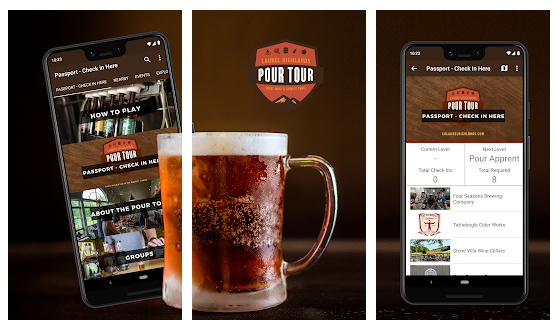 With the region's signature landscape, unique flavors, and burgeoning beverage industry, it's no wonder that the craft beverage community is parched for a Pour Tour. 
The Pour Tour app not only serves as a planning tool for checking in at all 28 locations, but also allows the user to explore nearby sites, check out related events, find accommodations (for the over-indulged) and more.
In the 60 days since the launch of the app, nearly 400 users have registered for the passport - and the love doesn't stop there! Additionally, there have been 800 check-ins shared among the various establishments on the Pour Tour. There is also something to be said about the DMO's retention strategy; week after week the team sends out timely, pertinent and fun push notifications. A nearly 30 percent push notification conversion ratio is nothing to scoff at!
If you're ever in the southwestern Pennsylvania region and want to tap into the great outdoors and wonderful craft brewing scene, do yourself a favor and download the app, available on Apple and Google Play. 
To learn how you can creatively customize your local experiences in a Digital Passport, please reach out to our VisitApps team.