TripAdvisor is launching a new feature called the Travel Feed. DMOs, currently experiencing volatile traffic from search engine algorithm changes and increasing competition, may find themselves wondering if the TripAdvisor Travel Feed is the next thing out there that will hurt their website performance.
The very early answer to this (the Travel Feed launches later this year) is: Yes. This yes comes with a few caveats, however. 
What is the Travel Feed?
Think of it as social media meets trip-planning. The Travel Feed will feature items of interest based on users' profiles. It will allow a user to follow one's TripAdvisor friends as well as travel/tourism influencers, experts and celebrities. Users will also be able to like and save trip ideas and destinations, create or find itineraries created by others, and book everything trip related, flights, hotels, restaurant reservations, entertainment and things to do.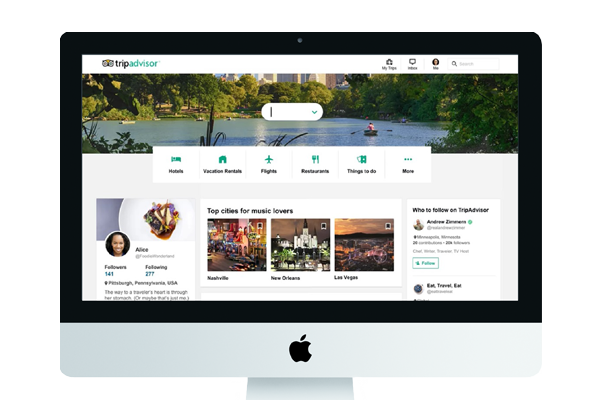 Why DMOs Should Be Concerned
DMOs work with/for their members/partners to promote them and the destination and send business to them. TripAdvisor's Travel Feed makes it easy for people to spend their money. Restaurants, shops, hotels, attractions and other local businesses on TripAdvisor will be easily added to users' trip itineraries plus allow bookings without having to leave the website. Even the DMOs that offer booking and attraction tickets on their websites will find it difficult to compete with the ease of planning and booking trips that the new Travel Feed will offer.
Why DMOs Should Not Be Concerned
Limited Social Platform Integration – While users will be able to import or find their Facebook friends, there doesn't appear to be any cross social network sharing and liking. Users wanting to share details of their trip on Instagram, Facebook and TripAdvisor would have to log into and post across three different platforms. Adoption of and active users on the Travel Feed platform are not guaranteed in the competitive social networking space.
Unclear Number or Value of Bookings – During the announcement for the Travel Feed, Tripadvisor asserted they influence billions of dollars in bookings every month. They did not, however, release any specific data on the number of bookings or monetary value of these bookings for which they are responsible.
No Deals – This may come in the future, but the product announcement for the Travel Feed made no mention of travel deals. Travelers enjoy deals and discounts and especially like deals that are offered exclusively to them for being a part of something.
Content Still Rules in the Kingdom of SERPs – Generally speaking DMOs have significant domain authority which helps them to rank highly for pages with well developed unique content. TripAdvisor and other competitors are improving their content and search results placements, but DMOs still maintain a strong presence.
Hype Versus Reality – The success of the TripAdvisor Travel Feed depends on getting many people to do things differently than they are used to. TripAdvisor believes the importance of their reviews and social elements will make the travel-feed succeed. TripAdvisor's new Travel Feed brings up interesting questions. Will combining social input and trip planning be successful? Do travelers take into account the opinions of celebrities (see--the Fyre Festival) and social media friends when trip planning? Will social influence trump deal hunting?
Moving Forward
SEO – Active search engine optimization (SEO) work has never been more important. DMOs have to explore going deeper than the basics, and SEO providers need to stay on top of trends and be able to provide creative solutions. Optimizing for long tail keywords and niche search queries has become even more important. Since search engines like specificity, DMOs should develop pages that focus on specific days, times, groups and seasons. Pages like "The Top 10 Things to Do With Kids This Weekend in Simpleville," "10 Best Romantic Getaways This Fall in Simpleville" and "The Best Burger Places in Simpleville" are other examples of content that users find helpful for planning.
Content Development – Search engines like content that answers questions. Users like easy-to-read and easy-to-understand content. Bullet points help break up the content and highlight important elements.
Travelers Like Deals – DMOs should work with their members/partners and find ways to offer deals that can be found exclusively on the DMO's website.
Make It Easy for Website Visitors to Give You Their Money – DMOs should explore partnerships that allow them to offer trip planning and booking for hotels and experiences.
DMO website traffic is constantly being threatened. Search engine algorithms, booking sites, partner sites, and competitor sites all affect the flow of traffic to a DMO's website. DMOs need to be aware of trends and be flexible in their digital marketing to make changes as needed. Good SEO is only a starting point. It must support good content that gives people what they want and makes it easy for them to get it. This approach will not only have a positive impact on DMO website traffic and the DMOs' relationship with their members/partners, but it will also have a positive impact on the long-term success and viability of DMOs.
If you'd like assistance with content creation and optimization, reach out to your account manager to learn more about Simpleview's digital marketing services.