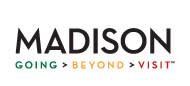 I chose Ironman Wisconsin in Madison for my 3rd Ironman because I'd never been there. It's also how I've chosen many of my destination races and what ultimately brought me to Tucson. After racing Ironman Arizona, and biking in November in 70 degree weather past Saguaro cactuses, I knew I wanted to live here. But I also chose Madison because I knew I'd love exploring the college town and experiencing its lakes, rolling hills, great restaurants, and microbrews. I convinced my fellow Ironman friend to sign up for the race, too. Neither of us had been to Wisconsin and we were excited to check it out.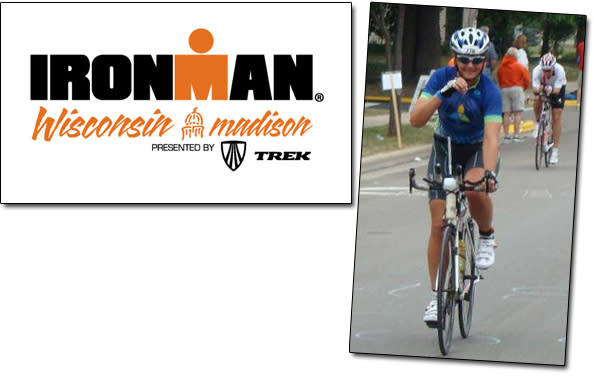 Race Week:
We arrived in Madison four days before the race. Mark and I, plus our support team: Than and Pat immediately checked out the finish line and transition area in downtown Madison. The race venue was in the Frank Lloyd Wright-designed Monona Terrace Convention Center on Lake Monona. We walked around town and discovered, where we ate dinner and I drank my last microbrew until after the race.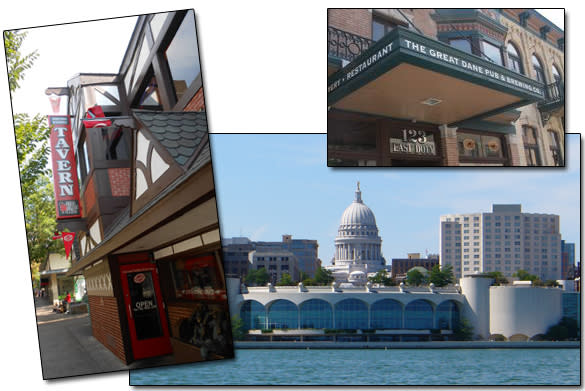 The next day we donned our wetsuits to test the waters in Lake Monona. As we headed to the water, a reporter from the local news station, WKOW, asked us if she could interview us and we said, "of course"!
She asked us a variety of questions - where we were from, what we did to train, and so on. She eventually asked us how long it would take for us to complete the race. This is a tough question because everyone really just wants to finish, even though we all have an expected time in our heads. I wanted to finish in 12 hours, so did Mark.
After the interview, we swam in the beautiful lake where the water temperatures were in the high 70s - just heavenly. We then picked up our tri-bikes and rode the bike path that paralleled the lake. My lungs love biking at 900 feet.
After a short ride, we had an easy afternoon walking around the Capital and plotting the bike course for the race.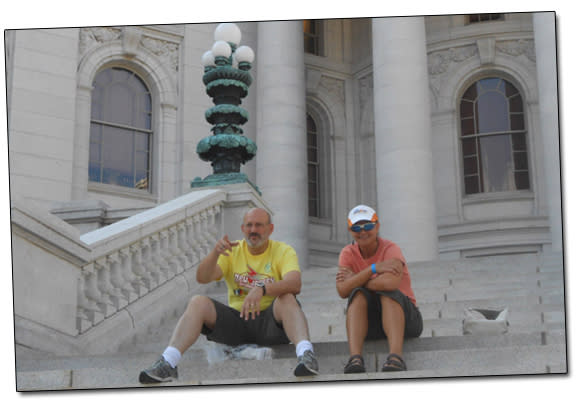 Knowing the bike course is an added advantage for local triathletes. Since we didn't have time to bike the course, we instead drove around to get familiar with it. We ate lunch at Gray's Tied House in Verona, located next to the course, and watched cyclists master some of the steep hills. We decided to stay off our feet and relax for the rest of the day, calling it an early night and resting for the big day.


Race Day:
Our race day started with a 4:30 a.m. wake up call and walking out of the door by 5. The race began at 7, and after a swim in the choppy waves (and swallowing a lot of lake water) I ran up the helix to the Convention Center to change.

I biked out of town to Verona, remembering the places we saw the day before. The cloud covered sky and cool breeze made for perfect racing weather. Green trees and beautiful homes decorated the bike course.

On a tough hill I heard, "Mom, you are awesome. Nice job on the hills."

The teenage girls were jumping up and down, and laughing hysterically. As we passed them, I asked the woman how she does all this training with children. "My children are amazing and they help me so much. I just love those girls", she said.

She was an example of the many amazing people I spoke to during this race. Each person had amazing stories about training and preparing for the race.

After biking 112 miles, I finally arrived back at the Convention Center. I was so excited to get off my bike! I changed again in the conference rooms and ran back outside. The temperature stayed cool and the crowds around the Capital were so loud - it was amazing!

The running course headed toward the University of Wisconsin. At the first aid station I saw my friend Mairead, from Tucson, handing out water. Her husband was racing and was ahead of me. It was wonderful to know someone at the station and she told me I looked great. A Lie.

I was still running at mile 13, however, I began walking more and my pace slowed after mile 14. Knowing that I wasn't going to make the time I originally wanted, I began to take it all in and smiled as much as I could to the spectators and thanked the volunteers.

After 13 hours and 50 minutes, I cross the finish line to Mike Reilly saying, "Kristen Lodge, you are an Ironman." This announcement chokes me up every time.

It was a good day.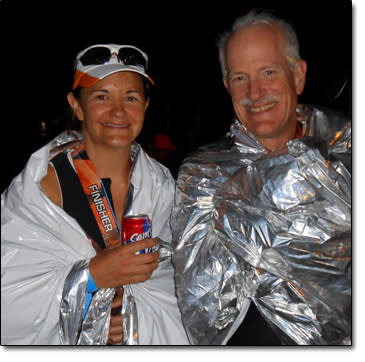 Day after the Race:
The next day we all were sore and decided to head back to Ironman Village to buy a finisher jacket. Mark and I had a late flights, so we asked the hotel concierge for attraction recommendations for the afternoon.
We headed to the Henry Vilas Zoo, where we saw buffalo, camels, and beautiful birds. It was also nice to walk around and stretch out our legs. We then drove to State Street for lunch, the same spot where the college crowds were cheering wildly for us yesterday. At State Street Brats we have traditional Wisconsin fare of cheese curds and brats. Afterwards, we walked along Lake Mendota and reflected on our great weekend of racing and exploring in Madison, Wisconsin.