Boulder, Colorado hosted its very first Ironman competition on Sunday, August 3rd. Simpleview Lead Analyst Shannon Flemming competed in this event. Below is his brief account as a participant. Read Shannon's full story at his blog. 
---
The Morning
It was around 4:15am that I hear a knock on my door. I leapt out of bed to realize my alarm was set for Arizona time! I quickly showered to wake myself and wandered down to the kitchen for a quick meal. We all chatted and laughed in the kitchen in an attempt to hide our anxiety and fears. Once done, we grabbed our bags and headed out the door to Boulder High School, the location for T2 and the shuttle pickup.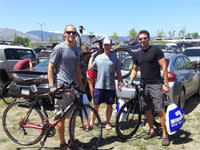 It was dark when we arrived. We quickly drop off our special needs bags and loaded onto the shuttle. We arrived a little late and rushed a bit; which turned out to be a blessing in disguise as it gave us little time to think about the next 12 hours. We aired up our bike tires, filled transition bags, put on our wetsuits, said goodbye to family and walked to the swim start.
The Start
When we arrived, the race had already started. Our swim wave was rolling into the lake. We snaked our way into the line, put on our swim caps and goggles, and did a quick stretch. I looked at Andy, gave a fist bump, said "good luck" and "have fun" when only seconds later, our race started.
The Swim
I dove in and started slow, showing respect to the elevation. The swim was crowded and it took awhile to reach a clearing; allowing me to focus on the swim rather than swimming around people. Up to then however, I had been kicked in the face, punched, dunked, legs grabbed, etc. It was just another reason to get out of the water as quickly as possible.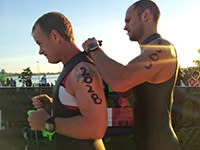 After reaching the second turn, I see the first orange buoy with a big 1 on it. I immediately assumed it was a mile marker and was disheartened, as it seemed like I had been swimming for quite a long time. Was this really just the first mile? I soon discover the buoy was not a mile marker and I begin feeling pretty good. The last few hundred yards, I am in a near sprint until I see people starting to stand in the water. I swim until my hand hits the bottom. I am running up the ramp when I hear my name over the loudspeakers. Swim time: 1:13:41 
T1: The beginning of the fun. Time: 6:52
The Bike
The first 30 miles of the bike course were the same of the half ironman. I settle in and am feeling awesome as the views are incredible. I notice the age of girl in front of me was written as "40 Just Turned". I commented that I thought it were funny how she qualified her age. We joke a bit and she tells me her birthday was just a few days ago and the body marker guy insisted. I wish her a happy birthday and start the climb uphill.
On the uphill climb, the course began to get hard. I was no longer passing and remained the same group of riders. Pain settled into my lower back around mile 45, causing worry. I tried to work through the pain in my head. I let my mind wander to things that made me smile and trying to focus on that...a friend's smile, a favorite hike, ice cream, whatever!
The ride to the finish was brutal. I started breaking the miles into time...only 90 more minutes, 60 more minutes, etc. We finally reached the crest of a hill when I knew where I was. Once we reach the top of the hill, we had a fast downhill all the way into town. It was exactly what I needed...streets lined with spectators for miles, cheering us on as we flew into town. Bike: 5:46:08
T2: Super uneventful in a hot, smelly tent. Time: 6:55
The Run
I hit the run path and am immediately surrounded by hundreds of spectators, getting a huge boost. I work up a good pace and settle into my run. At mile 20, I suddenly hear my mom's voice and look up to see her on a big screen cheering me on. Newton allowed people to record videos which turned on as we crossed the mile 20 mat. It made me smile, gave me the boost to get up and over the hill on the bridge, which I had come to hate.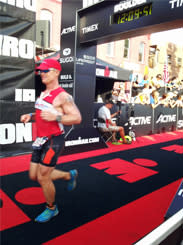 Every step hurt. The run was purely mental now. I reach the point where the path splits so those who are done can run to the finishers chute. One mile left. I look at my watch. I knew this mile was going to hurt. I walk a few steps. I begin scolding myself...the finish line is RIGHT there. Go get it! You can hear the music! GO! My heart lifts. The pain is gone. I continue down the chute, slapping high fives when I hear, "Shannon Flemming from Tucson, Arizona...you are an Ironman! Yay!" I look at my watch, cross the finish line and smile as the medal is placed around my neck. I then walk over to hug my mom again and have my picture taken with her. The pride in her smile and voice was more precious than the medal that I received...it turned out to be a great day for all! Run Time: 4:41:01
Total time: 11:54:37