In 2012, our company decided to invest in enhancing our team's overall expertise through several professional education development programs. Regardless of title, each employee receives a set amount of funds each year to learn about latest trends and processes, all to provide consistently excellent recommendations to our clients.
To help share some of those learning experiences, some of our Simpleview team members will blog about their times in classes and conferences. To continue our "We Learn, You Learn" series, our Creative Director Lisa Love has written about her time at Integrated Marketing Week 2013 in New York City.
_______
The world of marketing, advertising, and design is rapidly changing. The catalyst is technology. As a Creative Director for Simpleview, I like to keep a pulse on what our clients face from a marketing perspective. Knowing some of their challenges helps us create smarter design solutions that better promote destinations.
For my PED, I chose to attend IMW in New York City. Integrated Marketing Week is a premier event that highlights best practices, opportunities, and technology solutions to help integrate marketing across multiple channels.
One of the talks that I enjoyed the most was by Tom Fishburne, who brought an inspiring spark to his presentation about innovation, marketing and creativity. He shared thoughtful case studies from his time as a Vice President at Method Products.
I've always admired the creative packaging Method serves up. One of the key tenants to Method's innovative products and ideas is collaboration.  They foster the belief that great ideas can come from anywhere and most importantly, anyone.
At the beginning of the presentation, Tom had everyone participate in a simple exercise that proved to the entire audience that we could, in fact, draw. His point was that drawing helps bring fun into creative thinking and ideation.
Tom's second exercise put those drawing skills to the test. We were charged with taking one marketing idea that we had at the beginning of the event, and put it down on paper. The steps included...
1.      Jotting the idea down in a few words
2.      Drawing people on a sheet of paper to help explain the idea
3.      Further expanding on the idea by adding some words or short blurbs
4.      And finally, giving the drawing to someone else to experience how ideas are improved and expanded upon by sharing them
My idea, which had stuck with me throughout the event, was "Everyone works in marketing".  Below is my sketch: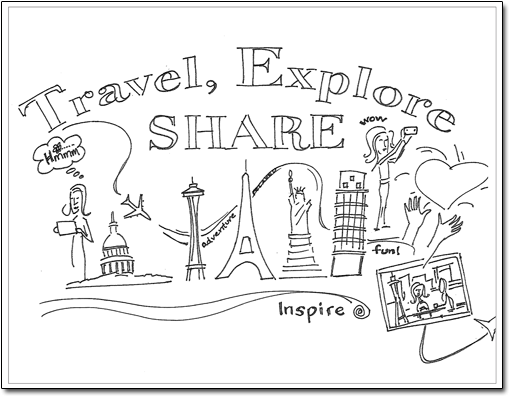 Tom's exercise helped bring forth the notion of pushing past the traditional PowerPoint presentation. So, I thought to myself - why not present creative ideas, creatively?
After I returned from New York, my team and I used this technique for a web design project. The visual storyboard helped to enroll our client into the creative thought process and was a success! Now our clients have a better understanding of how we arrived at the design solution for their destination.
The best ideas become ever bigger and better when you open the idea up to collaboration. You may come up with a good idea individually, but when everyone collaborates that idea can turn into a remarkable idea. Therefore, remember to share your ideas so that they turn into phenomenal ones!