The marketing industry has seen myriad changes over the last few years, and we're sure to expect many more to come.  Marketers now are expected to do more with less, all while keeping up with insurmountable gaps in marketing and technology skills.  Additionally, marketers are now presumed to be able to measure the return on investment (ROI) of their coveted marketing dollars.
So, Where Do We Start?
I recently had the opportunity to attend Integrate 2015, an exciting annual marketing conference that focuses on exploring these pressing topics.  The conference was held at West Virginia University, where I'm currently pursuing a Master's degree in Integrated Marketing Communications.
Each year, the WVU Integrated Marketing Communications (IMC) graduate program hosts Integrate in Morgantown, WV.  The conference is held over two days and with more than 200 attendees ranging from marketing communications professionals and industry leaders, to marketing professors and graduate students.  The goal of the conference is to explore the ever-changing field of marketing, discuss the latest IMC techniques and strategies, and connect with professionals from around the country. 
Taking Time To #Unplug 
I packed my car on Friday, grabbed a handful of business cards, and a roadie (large coffee, cream and sugar) and made my way from Pittsburgh, PA to Morgantown, WV.  I arrived early, which allowed for enough time to stop at nearby Coopers Rock State Forest, a 12,747-acre state forest with an unbelievable overlook.  If you are ever in this neck of the woods, I highly recommend stopping in for a visit.
After snapping the obligatory Instagram photo, I took some time, 'unplugged,' and enjoyed the peaceful rustle of the West Virginia mountains.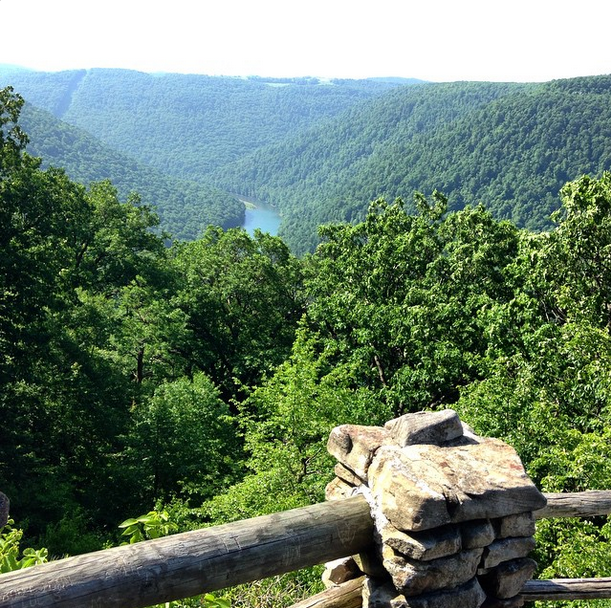 After I spent about an hour gathering my thoughts in the mountains, I set off to register for the conference.  When I arrived, Integrate 2015 was is full-swing and everyone seemed to be 'plugged-in' (snapping photos, tweeting, setting up their laptops to type notes), but amongst the constant clatter of keyboards, there was still a steady rumble of old-fashioned conversation.
Linkedin in Real life
One of my goals for this conference was to leave my phone in my pocket, which would force me to engage folks on a deeper level, distraction-free.  This strategy worked well, and I was able to connect with most of the presenters.
One presenter, who was particularly engaging, was Paul Roetzer, Author and Founder/CEO of PR 20/20.  Paul presented on the importance of establishing metrics that matter and how to build successful performance-driven marketing campaigns.
"There has never been a better time to be a marketer." – @PaulRoetzer #Integrate15

 
I had the pleasure of meeting Paul after his presentation, and he stressed to me the importance of measuring marketing dollars and utilizing CRM reporting capabilities to maximize results.  We also discussed how to break down barriers between sales and marketing departments.  He recommended one way to connect with sales is to agree on marketing campaign goals (sales, leads, awareness, etc.) and then for marketing to be able to produce metrics using real data.
Integrated Marketing as a Battle Plan
Another presenter, Duane Dub, retired Global Senior Marketing Manager in IMC at IBM and university marketing lecturer, took the stage and compared creating an integrated marketing communications (IMC) plan to building an effective battle strategy.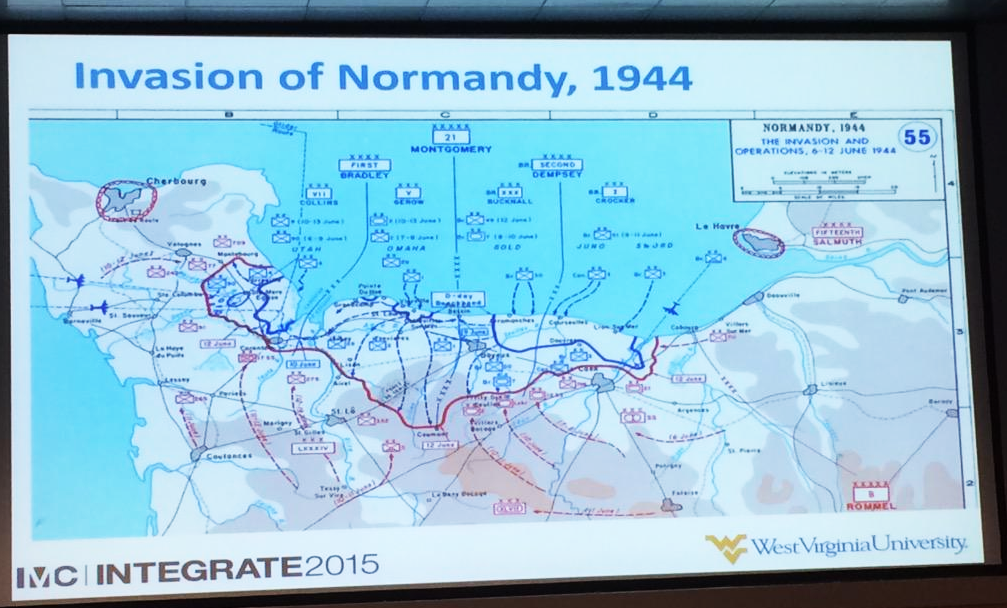 To help illustrate his point, Dub used D-Day as an example of how to run a truly integrated marketing campaign.  By focusing on planning, timing, and sequencing of tactics, CMOs (Generals) can successfully deploy campaigns (units) to win customers and gain territory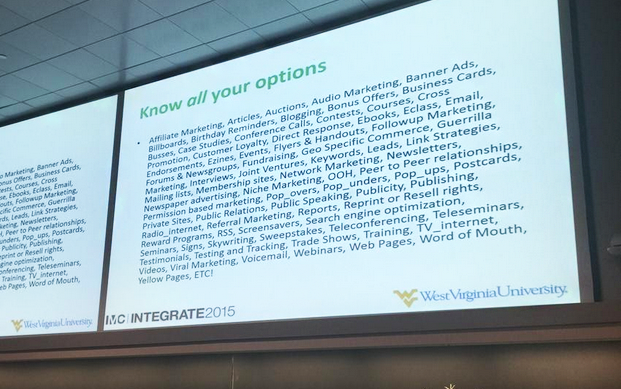 Dub also pointed out many of the options we have as marketers today.  From affiliate marketing to word-of-mouth (and everything in between), it's important to know your options in order to develop a truly integrated marketing communications plan.  Basically, if you're not integrating your strategy, you're dying on the battlefield.
Closing Thoughts
I really only scratched the surface of topics offered at WVU's Integrate 2015.  If you're looking for more 'knowledge-nuggets,' or curious about what the conference is like, here is a link to some fun user-generated content: tagboard.com/Integrate15
Overall, I had a great time participating in many innovative workshops and listening to thought-provoking discussions.  Most importantly, I enjoyed connecting face-to-face with industry leaders and professionals.  So, if you plan to attend Integrate 2016, I recommend you leave your phone in your pocket.