With miles of hiking trails to explore, and a nice stretch of sand for sunset strolls within easy reach, Traverse City makes for the perfect summertime destination for those seeking a laid-back visit only the Midwest can offer. 
As Traverse City Tourism set out to entice more travelers to experience it for themselves, they recruited the support of Simpleview and together we took on the task of improving partner referral conversions and optimizing their existing strong relationships with these local businesses.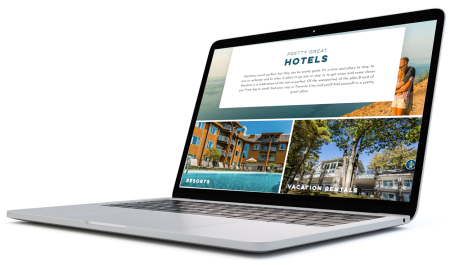 Right away, it was clear to the team that conversion rate optimization (CRO) would provide the clearest path to accomplishing this mission. Simpleview's CRO Analyst team identified Traverse City's newly created 'Pretty Great Hotels' section as an area of opportunity to improve these conversions, given that the existing call-out on the hotel subpages was sending visitors to the listing detail rather than directly to the partner websites. By making a few changes, such as using alternate call to action copy for the button, and sending users directly to the partner websites, they were able to reduce unneeded friction for the user and eliminate possible barriers to booking. By clicking 'view rates' versus 'read more,' and leaving for a partner website, the user also displayed a higher intent to visit the destination which is one step closer to the ultimate goal.
For Traverse City, these efforts have paid dividends in a very short period of time. In the first two weeks running their campaign and reaching about 1,887 visitors, the team saw a 131% increase in partner referral conversions. Simpleview's CRO Analyst Hannah Mullenbach crafted their CRO strategy, noting that it is all about evaluating the intended priority goals for a website. "It's important to understand that the success of one goal may impact the performance of another," she said.
"In this case since partner referrals were a priority, we were confident that de-prioritizing metrics like time on site, in service to the overall goal and best user experience, would yield the best results."
This success story happens to be just one example from the hundreds of growth optimization tests that we've had the pleasure of running on destination sites. If your website could use some help hitting your DMO's digital marketing goals, we can help! Reach out through the form below and we'll get back to you soon about developing a plan of action.
 
Image by David Mark via Pixabay