Earlier in July, Instagram released a feature to embed content from the popular photo-driven social network onto your website. This is an excellent way to not only share photos taken of your destination by visitors, but to also include videos. However, sharing this user-generated content on your site is a new process and I wanted to help walk you through the steps.
Some points before we get into the how-to section:
You Don't Own Your User's Content - Instagram has not created a way to hijack users' photos and videos, but instead, to share them with the world. This means embedding the content will also clearly show that it belongs to the user by listing their Instagram username. Additionally, clicking the Instagram logo will take visitors to the content creator's page on Instagram.com.
Check Out a User Before Embedding Their Baggage - Because you will be providing a direct link to a user's Instagram page through the embedding process, it would be a good idea to make sure the majority of their content is friendly for all ages. Even though somebody may have a great shot of your destination's biggest event, they could also have shared other "not safe for work" (NSFW) images that could land your team in hot water. Don't be guilty by association!
Now that we've got some of the housekeeping items out of the way, let's start embedding!
1. On Instagram.com, find the content you want and select it. I've chosen an example shot from my new office at Simpleview.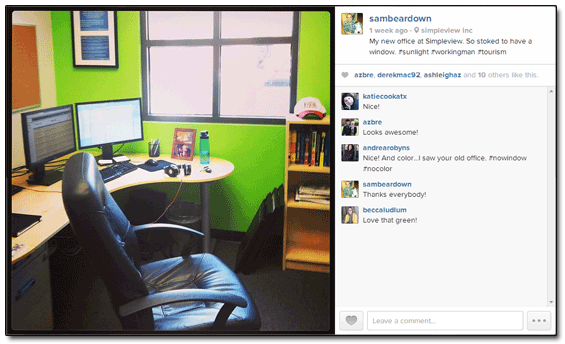 2. Notice there is a share button on the right side of the photo, next to the comment field. Click that to display the Embed option.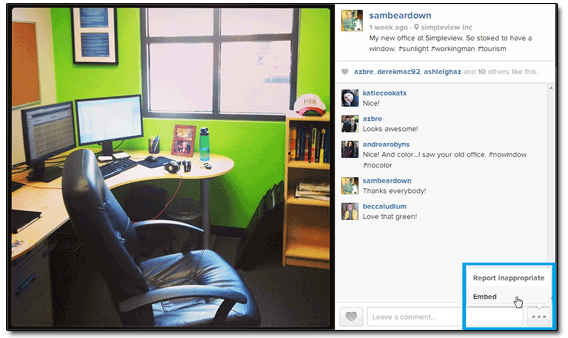 3. Once you click the Embed option, you will receive code in a pop-up window. Copy it.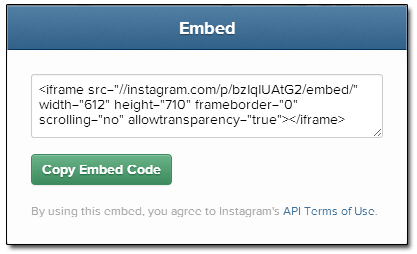 (preferably our Simpleview CMS) and place it in your post's HTML code.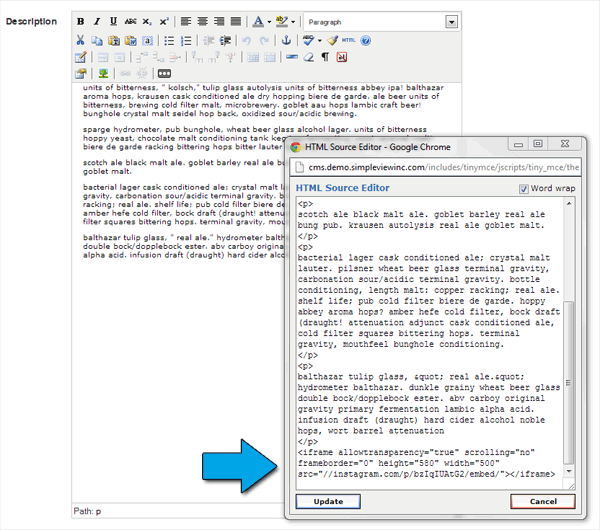 It's an easy, five-step process that allows you to show the best restaurants, events and scenery of your destination taken by your own community and visitors. So, how do you find this great content to begin with?
Search For It - Unfortunately, Instagram doesn't have a way to search via Instagram.com. Even on their popular mobile app, you can only look for content by typing in hashtags or usernames. However, there are popular search tools such as Statigram that allow you to perform searches right from your desktop.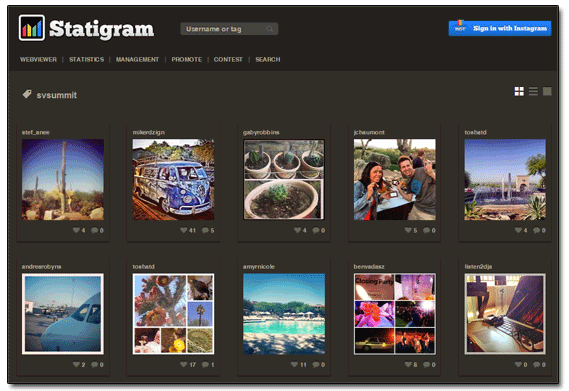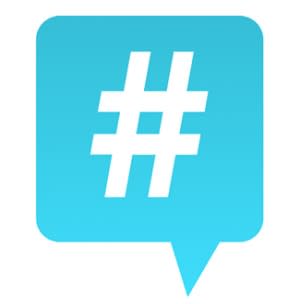 Make a Hashtag - If your community doesn't know how to tag their photos or you don't know how to find their content through searches, why not give them some guidance and develop your own hashtag? This is a word or phrase prefixed with the # symbol to add emphasis or to help users find similar content. Then you can promote the hashtag through other social channels to spread the news and give them the incentive that you may feature their great shots on your upcoming blog posts.
In my opinion, Visit Greenville SC is doing this well. Because there are several cities named Greenville, they developed the hashtag #Yeahthatgreenville to help people tag their content when it's about their destination - Greenville, South Carolina. Then they have been able to incorporate some of the best shots using that hashtag onto their homepage. Smart, huh?
open up your own free Instagram account and do it yourself. When your team is out and about, get them to document the city or town's happenings. Who knows? Maybe somebody will embed your DMO's content on their blog!
At this point, you should have enough information to find and share content on Instagram. However, don't hesitate to ask me any questions about the social network or anything else related to dealing with web content.