It's not news that travel intent is starting to pick up now that more than 40% (and counting) of the U.S. population has received at least one dose of the COVID-19 vaccine. According to Longwoods International's recent survey results from April 20, a whopping 87% of frequent travelers plan to take at least one trip in the next six months. Our data indicates the positive sentiment is starting to translate into actual bookings. 
These positive trends for the travel industry are signaling it's time to start planning campaigns for the summer, but they also sparked a few questions you'll need to consider as you do. How is the COVID-19 vaccine rollout currently impacting booking activity? And are the trends varying by age group, considering seniors, age 65+, were among the first to receive the vaccine? 
Let's take a look. 
 
Travel Intent During Vaccine Rollout
To understand the overall trend, we first compared Book › Direct searches with the U.S. vaccination rollout. As you can see below, searches are going up, confirming the positive shift in travel sentiment. Interestingly, the increase in searches is growing at a slower pace than the actual vaccine rollout, making it challenging to establish a direct relationship between the two metrics.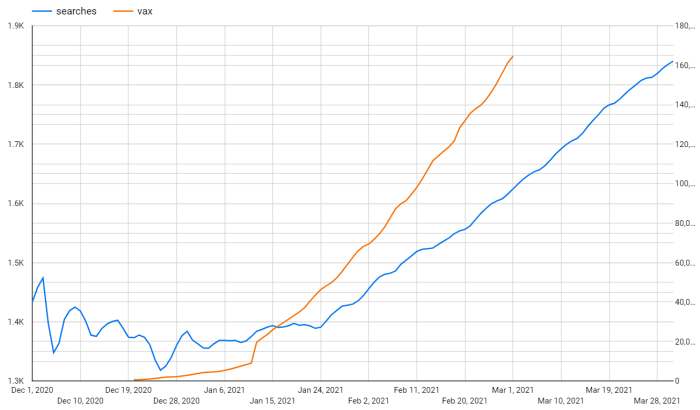 Searches on Book › Direct content (7-day average) vs Total US Vaccinations
Paul McLeod, Simpleview's Director of Analytics, mentioned, "Since the start of vaccination, searches on Book › Direct content have risen steadily, with the rise starting about two weeks after the path of vaccination took off. However, with the path of both metrics rising uniformly, it's difficult to establish a direct causal relationship between them."
A possible explanation for the two-week lag in search growth and slower rise in searches might be that the Pfizer and Moderna vaccines require two doses two to three weeks apart, which could slow down the readiness to plan and travel. 
 
Booking Activity By Age Group
For this part of the analysis, we looked at different age-group performances, starting with Book › Direct search rates per session. Simply put, we looked at how many searches there were per session on average.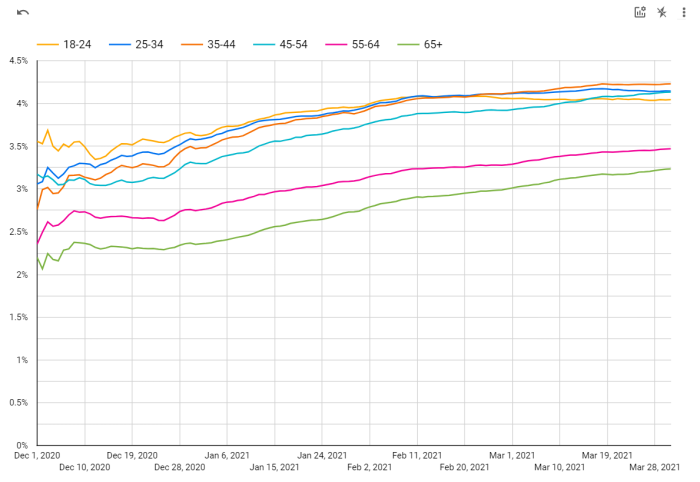 Book › Direct search rates per session (7-day average) by age
The chart above shows a slight difference across the age breakdown. The 18-24 group, and to a lesser extent ages 25-34, have stagnated, while all other groups have continued to rise. Paul McLeod said, "This may indicate that the older age cohorts are catching up to very young adults in their willingness to book travel, but the effect does not seem to be much different between groups over age 34. Seniors have caught up a small amount but remain the group least likely to perform a search on Book › Direct."
To provide context, we also reviewed month-over-month referral changes for each age group for the last three years. In this case, referrals measure those who visit lodging websites instead of those only doing a general search in the Book › Direct search engine. In other words, it's an action performed further in the funnel where the intent to travel is higher.


Book › Direct month over month referral volume changes
The table above shows month-over-month seasonal changes that typically occur in Q1, but the last 12 months have been anything but typical. Here we summarize our insights:
Using 2019 as the most recent "normal" year, the above table shows that after December, referrals typically go up in January, dip slightly in February, and pick up again in March. 
In the anything-but-normal 2020, referrals followed their usual and expected pattern of decline in February. However, rather than the decline reversing in March like usual, it intensified after the World Health Organization (WHO) declared COVID-19 a pandemic. 
In 2021, the trend looks different, thanks to the change in sentiment we are experiencing. Each month in Q1 shows an increase, with the growth being slightly higher in older cohorts, most likely influenced by the fact that they had the opportunity to get vaccinated first due to the risk of life-threatening complications.
That said, not all age groups generate the same amount of referrals. The 65+ age group is the smallest group, representing 11% of referrals in 2021. Below, we compare Q1 age-group referral share for 2019, 2020, and 2021.
 

As seen above, these figures have not varied much year over year; however, the older cohorts had a slight decrease in share in Q1 2021; meanwhile, the 18-24 group went up from 8.7% to 13.5%. 
In addition to the metrics we have reviewed measuring levels of intent, booking conversion rates for lodgings in March are 22% higher than in March of 2019, signaling that the intent to travel is already translating into actual bookings. We can see that 2021 is not a typical year, but at the moment, the differences are trending positive, thanks to the change in sentiment caused by the vaccine rollout. Even though the increase in booking activity varies by age group, all age groups are trending up. 
In summary, we are on track to have a robust travel season this summer in the US. Therefore, it's the perfect time to start planning for campaigns, coordinating with stakeholders, and making sure we are delivering the right content to the right people.