For tourism marketers in 2020, adaptability has been the name of the game. In a matter of months we went from business as usual, to doing something rather unheard of the tourism industry — encouraging visitors to stay home. From there, we embraced virtual tourism and social-distancing friendly activities, and encouraged our residents to shop and eat local in support of small businesses. 
Now, as the travel industry begins to recover, tourism marketers are once again adapting their strategies. But with COVID-19 cases still on the rise in many parts of the world, many residents are wary of inviting visitors back into their communities, no matter how many health and safety guidelines have been put in place. 
Here are some creative ways that destination marketers have adapted yet again in an effort to connect with their visitors and safely restart travel in their communities. 
Getting Creative With Virtual Events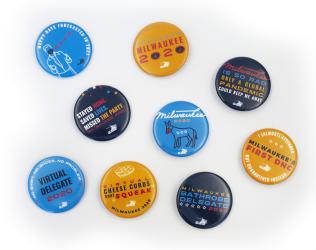 2020 was supposed to be a record-breaking year for VISIT Milwaukee, who was tapped to host the 2020 Democratic National Convention. Once it became clear that they would have to pivot to a mostly virtual convention, the VISIT Milwaukee team got to work brainstorming ways that they could still make the most of the opportunity. They quickly leaned into digital tools to provide the delegates with a way to experience the city they should have seen in-person, launching 30 unique videos — narrated by members of the community — that collectively made up a virtual tour of the destination. To give would-be convention attendees a more tangible feel for the city, the DMO also sent out more than 400 "From Milwaukee with Love" care packages filled with items from local vendors, as well as convention pins that attendees would normally collect at the event, with cheeky sayings like "I (Almost) Attended Milkwaukkee's first DNC '' that generated quite the buzz online. Suffice it to say, their creative efforts paid off and VISIT Milwaukee not only created one of the most memorable marketing campaigns of 2020, but also generated more than 500 million impressions over the course of the four-day convention. 
Micro-Tourism Gains Popularity
In an effort to safely restart travel, many destinations launched micro-tourism campaigns this summer to encourage locals to "become a visitor in their own city." Mesa Tourism was among those who decided to find a way to tap into their own market, promoting three themed "Escape to Mesa" vacation packages created to support the city's struggling hospitality industry. Visit Mesa's packages are unique in that participating businesses not only provided discounts on their offerings, but participants were also given gift cards as "incentives" to spend money at local restaurants and attractions. 
Millions of Americans Hit the Road
Bound by air travel restrictions, Americans took to the road this summer to find an escape from quarantine. National parks became a popular destination for roadtrippers, providing them with a much-needed change of scenery. Data from the U.S. Travel Association shows that 78% of visitors to the parks this summer were tourists, rather than locals, who were often traveling upwards of 200 miles, suggesting that DMOs may want to focus their marketing campaigns on drive markets as they continue to navigate recovery. 
Health & Safety Takes Priority
While concerns around COVID-19 undoubtedly remain, recent data from Destination Analysts shows that nearly two-thirds of American travelers still plan to take a trip in the next six months. For DMOs, the challenge is how to encourage travel to their destinations while still prioritizing the health and safety of their local communities. The team at Pocono Mountains Visitors Bureau created somewhat of a blueprint earlier this summer with the "Pocono Promise," a voluntary set of guidelines designed to protect residents, visitors and employees from COVID-19. Businesses that choose to participate in the program are asked to follow a specific set of safety guidelines that include aggressive cleaning protocols and social distancing measures. Participants are also issued door signs and flyers that they can display as a way to communicate that they have taken the necessary measures to make guests, employees and residents comfortable. Even the U.S. Travel Association got involved in safety efforts, recently launching a fall campaign that encourages travelers to "remain as diligent as ever in wearing masks, washing hands and maintaining physical distance when possible." 
---
In short, the tourism industry as we know it is changing, and destination marketers are rising up to meet that challenge. 
To hear more from tourism professionals about innovative initiatives in their destinations, check out The Layover Live or tune in to the Future of Tourism podcast.