DMOs have an essential role to play in helping to promote the health and safety of communities as well as inspiring confidence in travelers. In the latest findings from Destination Analysts' Coronavirus Travel Study Index Report, while more than twice as many Americans took trips for the Fourth of July compared to Memorial Day, perceptions of travel activities being unsafe are the highest they have been since the week of April 27.
 
Travel organizations across the industry have come together, collaborating with health and medical experts to provide safety and health guidelines that destinations can then adapt to their own local businesses. The U.S. Travel Association has been leading the charge on the national level and has put together industry guidance for promoting the health and safety of all travelers and most recently, the Travel Confidently initiative. The guidance provides a unified approach to safety and can be employed by travel companies and destinations during the visitor experience.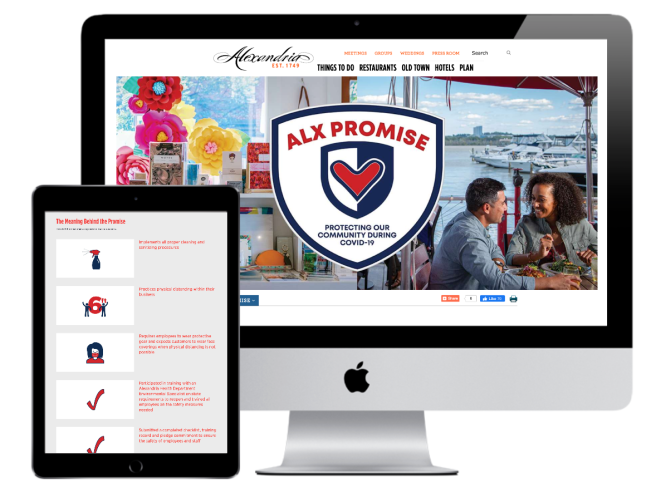 As recovery moves from a "Maintain" phase to a "Rebound" phase, many destinations are reopening with the highest priority placed on the safety of hospitality employees, their communities, and visitors. DMOs including Explore Asheville, Experience Columbus, Visit Fort Worth and Visit Alexandria have created safety pledges and are working with business partners to re-open responsibly by following the best practices for re-opening their hotels, restaurants, attractions, etc. They are then sharing that information with locals and visitors alike.
DMOs are sharing health and safety information in creative ways. Visit Alexandria created a physical distancing guide, Visit Fort Worth created and distributed branded masks, Explore Asheville shared information on their Stay Safe pledge over a webinar and Experience Columbus features masks by local makers that are available for purchase.
As the U.S. Travel Association states: When travel businesses, residents and travelers all do their part, Americans can Travel Confidently. Want to help get the word out? The Travel Confidently toolkit includes industry best practices, graphics for your website, social media messaging examples, posters and more available for download. Looking to create safety pledges in your destination? Learn more about the U.S. Travel Association's health and safety guidance on their website.