It seems like more and more data is becoming inaccessible in Google Analytics. Over the last couple of months, the Search Engine Marketing department started to see a decline in organic traffic to clients' websites and an increase in direct traffic. This was puzzling to us, as an increase in direct traffic usually means an offline campaign or a lot of people bookmarked your site. And because it was happening for so many of our clients, it did not seem plausible they would all be running an offline campaign at the same time.  So, we investigated and found an interesting development.
Between late September and early October of last year, Apple made a change to privacy settings for those using iOS 6 - the latest version of the iOS mobile operating system - when searching Google from the Safari web browser. Search queries sent through the built-in search box within Safari are now sent through Google SSL Search, which is meant to provide a  "more secure and private search experience," according to Google support documents. This is similar to the update that Google made about a year ago, which started the "not-provided" keyword issue. When users are logged into their Google account and conducting a search, the keyword that they used in their search to find and visit your website shows up in Google Analytics as "not-provided."  What started out as maybe five to seven percent of searches grew to 25 percent of searches for some websites. Of course, this only applies to organic searches.
So, searches from iOS 6 made through Safari look like direct traffic in your Google Analytics stats. All referring information is stripped out. Google might be trying to find a solution, but it is fairly certain Apple is not going to change back to a less-secure browsing experience. There's not a great way to report on this difference in traffic since some of it might be direct and some might be organic. It's difficult to make the assumption that all traffic coming to your site from Safari is organic traffic.

The chart above shows traffic by Operating System. You can see a change in organic traffic (green line) and direct traffic (orange line) starting around the beginning of October, as well as having direct traffic's increases overtake organic traffic.
This next graph shows an increase in direct traffic, which is coming primarily from Safari, year over year.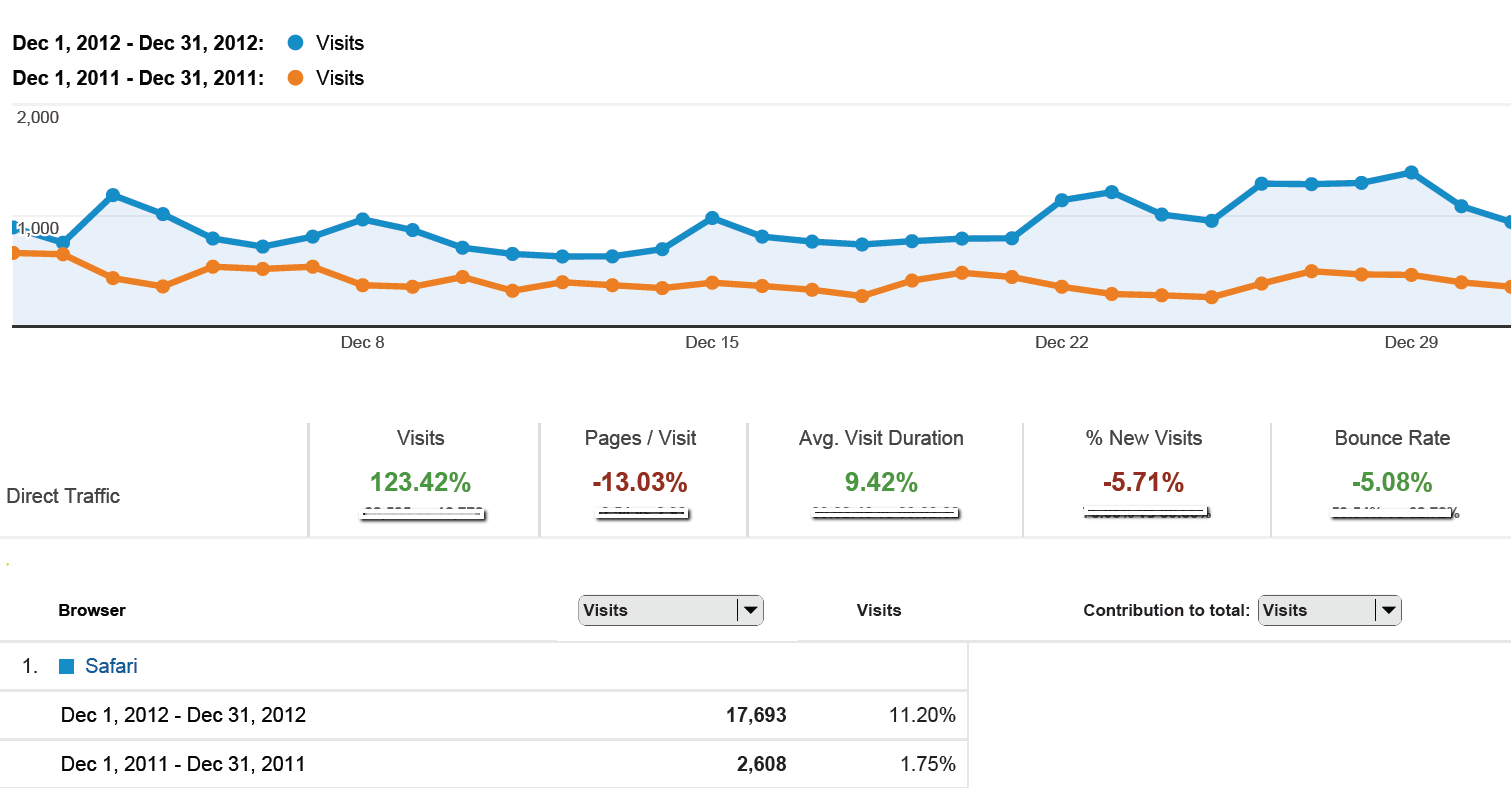 The chart below shows an increase in organic vs. direct traffic between Apple iOS5 and iOS6.
This is not an issue for users who use Bing and Yahoo, since they do not offer that same secure search that Google offers. So, if you start to see an increase in direct traffic to your website and a decrease in organic traffic, you now have more insight into what is actually happening.
***Update*** It's been confirmed that this problem also exists for those using Android 4.0 and higher. Android traffic is generally smaller than iPhone traffic and version updates are more gradual, so even though this is an issue, it will not affect organic traffic as dramatically.
Contact your SEM Analyst or Account Manager for more information on this topic.
-----
Lynn Stevensonis a Search Engine Marketing Analyst for Simpleview. For questions regarding this post, visit our "What We Do' page to learn more about our SEM services.