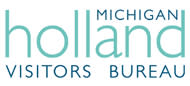 To get to Holland, you probably do not need a passport. This destination, which is located on the shores of Lakes Michigan and Macatawa, allows visitors to have a pure Michigan experience. One can dine along the waterfront, climb sand dunes, shop for wooden shoes, attend their famous Tulip Time Festival and more.
The Holland Area Convention and Visitors Bureau has many restaurants, hotels and attractions to entice people to their beautiful, lakeside city. However, they wanted to revamp their website - Holland.org - to better showcase all they had to offer.
With our team's help, the CVB has a website design that is simple, clean and sprinkled with elements that reflect the city's Dutch heritage. They also have centralized all of their internal data and can easily update their site's page with their Simpleview customer relationship management (CRM) and content management systems (CMS).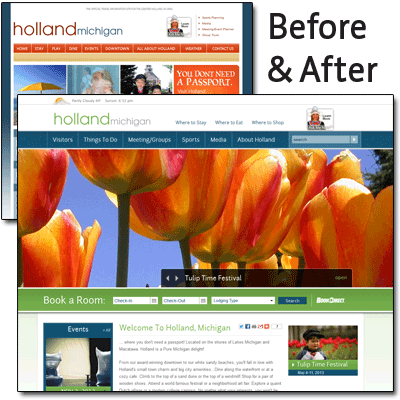 Some noteworthy features on Holland.org include:
Prominent Booking Engine Placement - It is nearly impossible to go to Holland.org and miss the opportunity to book a hotel room. Every page has a full-length booking engine integration with JackRabbit BookDirect for picking the bed and breakfast, resort or campground for future stays.

Image Box Choices - To help provide context to images on the site, we have developed several image box variants. This allows the CVB's staff to easily add descriptions to each image to help attract visitors to learn more, click through to a page or request more information.

There are plenty of other features to explore on Holland.org, so head on over to the CVB's new site to learn more about its Dutch attractions, magnificent beaches and award-winning downtown area with exceptional shops, galleries and eateries.