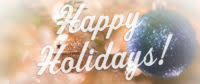 It's been a great year for the travel industry and, according to many sources, 2014 is set to go out with a bang with a record number of travelers planning a vacation during the last week of the year.

In years past Thanksgiving was the big travel week in the U.S., but this year, according to American Express Travel agents, most people are planning a vacation for the week between Christmas and New Year's, not Thanksgiving weekend. So if you experienced a busy and successful Thanksgiving weekend, you're sure to have an even busier period to come!

It's not just family that travellers are taking off to see, 76% of travel agents reported that more customers than ever before are planning luxury vacations for their holiday travels this year. Families with children are taking advantage of school being out. Couples are using their vacation days to "get away from it all" or simply because they want to celebrate the holiday season by doing something new and exciting.

FAVORITE HOLIDAY GETAWAYS: 
Beach/Resort
Cruises
Ski/Mountain 
TOP US DESTINATIONS THIS HOLIDAY SEASON:
Los Angeles
Fort Lauderdale
Kahului
New York
Miami
West Palm Beach
Vail/Eagle
Orlando
Denver
Salt Lake City
TOP FACTORS THAT CONSUMERS WEIGH WHEN MAKING HOLIDAY TRAVEL PLANS:
How well they suit their family's interests
Discounts/Deals
Available amenities and upgrades
Convenient/Easy to get to
So, I guess this year, that old favorite Christmas song, "There's No Place Like Home For The Holidays" will be replaced by the Red Hot Chili Peppers' "Road Trippin'"!