Richmond, VA is full of history. From its monument-lined cobblestone streets to world-class museums, one has the chance to experience more than 400 years of American culture in this vibrant city. In order to better inform visitors and meeting planners online about the city's unique adventures, tours and events, the Richmond Metropolitan Convention and Visitors Bureau decided to collaborate with the Simpleview team on updating and enhancing its web presence.
This update included a fully integrated build with Simpleview's content management system (CMS) and customer relationship management (CRM) system, transitioning all links and the site map over with our Search Engine Marketing team's assistance, as well as incorporating the new design into all of the build's modules and overall functionality.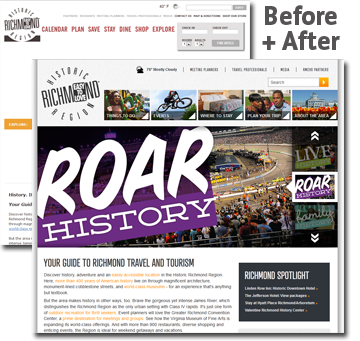 Some of the site's new modules and functionality include:
Animated Header - While many sites have an animated header to highlight various sections and pages, our development team was able to incorporate a vertically aligned scrollbar to give an intuitive feel to the site. As users are used to moving up and down to see a desktop site, this makes the navigation easier to understand for the end user as opposed to other formats.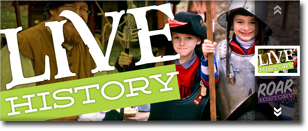 YouTube Integration - To entice visitors to view the bureau's YouTube videos, our team developed an integration that automatically pulled a screenshot from the feature video onto the homepage. Once clicked, the video will appear in its own media viewer application.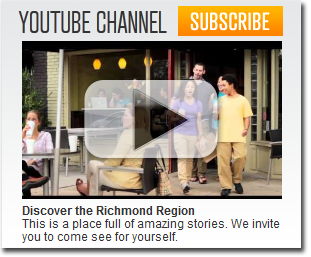 As Metropolitan Richmond offers a historical experience that is anything but textbook, this new website should help foodies, thrill seekers and weekend travelers alike find the information they want on this amazing destination. We encourage you to check out this new build and learn more about the region's more than 900 restaurants, diverse shopping options and enticing events.