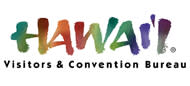 For the first six months of 2012, Hawai'i saw double-digit increases in visitor increases and expenditures, welcoming 3.9 million guests and bringing in more than $7 billion in expenditures to the state. This puts the destination's tourism economy on track to set a record-breaking year, as this period marks a $1.2 billion increase from the same timeframe in 2011.
According to a report from the Maui Weekly, collective efforts from tourism-focused businesses like airlines, hotels, restaurants and destination marketing organizations have generated "significant increases in spending, and lead to economic growth and job sustainability throughout the state."
This is excellent news for the Hawaii Visitors and Convention Bureau, which is one of our clients. Their efforts are a major factor for this increased interest in their state and all it has to offer travelers.